How to fix your DJI drone battery using the CP2112 with DJI Battery Killer
admin
Introduction
Welcome to our comprehensive guide on resolving battery issues with DJI drones. If you've been experiencing problems such as battery not charging, overheating, or requiring firmware updates, you're in the right place. Whether you own a Mavic Mini, Inspire 1, Phantom, or any other DJI drone model, we've got practical solutions and DIY tips to address these common concerns. You'll also learn valuable insights into battery storage, maintenance, and model-specific fixes. Get ready to optimize and elevate your drone's battery performance, ensuring trouble-free flights.
In this post, we'll delve into a software-based solution for tackling BMS (Battery Management System) issues by addressing power failure flags, often referred to as "pflags." When a power failure is detected, the BMS activates to safeguard the battery. This can occur if power levels drop below a specific threshold or if cell connections are disrupted.
We will guide you through a straightforward and effective drone repair method using the DJI Battery Killer and CP2112 Adaptor.
Bid farewell to battery charging complications, overheating woes, and more. Regain the skies with your drone by following this uncomplicated yet powerful repair process. Let's embark on the journey to get your drone soaring once again.
DJI Drone Batteries
DJI drone batteries are renowned for their intelligence. They feature advanced components like the Battery Management System (BMS), responsible for monitoring critical parameters such as voltage, temperature, battery health, communication with the drone, safety mechanisms, hibernation mode, and an optimized design.
These intelligent features contribute to enhanced performance, increased safety, and the extended lifespan of your batteries, ensuring a superior flying experience.
DJI Mavic Air Battery Specifications
Capacity: 3500 mAh
Voltage: 11.55V
Energy: 40.42 Wh (typical value)
Battery Type: LiPo 3S
Charging Voltage Limit: 13.2 V
Discharge Temperature: -10° to 60°C (14° to 140°F)
Charge Temperature: 5° to 40°C (23° to 113°F)
Charging Time: Approximately 55 minutes (using a DJI charger)
Weight: 140 grams
Compatibility: Specifically designed for DJI Mavic Air drone
DJI Mavic Mini Battery Specifications
Model: BWX161-2250-7.7
Nominal Capacity: 2250 mAh
Battery Type: LiPo 2S
Nominal Voltage: 7.7 V
Charging Voltage Limit: 8.8 V
Charging Temperature: 5°C to 40°C (41°F to 104°F)
Maximum Charging Power: 29 W
Applicable Model: DJI Mini 2S Drones
CP2112 Adaptor – USB TO I2C DEBUG BOARD
The CP2112 Adaptor serves as a crucial bridge between your USB-enabled computer and I2C devices. It enables seamless communication by translating USB-to-I2C data protocols, making it an indispensable tool for interacting with I2C devices, including DJI drone batteries.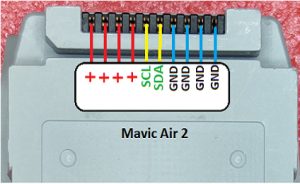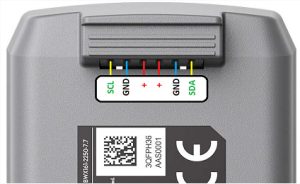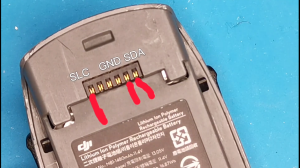 CP2112 Adaptor Pinout
VCC: Power supply voltage.
GND: Ground.
SDA: Serial Data Line.
SCL: Serial Clock Line.
WAK: Wake-up pin.
INT: Interrupt pin.
RESET: Reset Pin.
The CP2112 acts as the intermediary between your computer and the battery's BMS. It communicates with the BMS through SDA and SCL connections. The BMS serves as a crucial safety feature, protecting both the user and the battery in the event of power disruptions, disconnections, or short circuits.
Connecting the Battery with CP2112
To establish a connection between the interface and the battery:
Identify the battery's pinout.
Connect the GND pin of the CP2112 Adapter to the negative terminal of the battery.
Connect the SDA pin of the CP2112 Adapter to the battery's data line.
Connect the SCL pin of the CP2112 Adapter to the battery's clock line.
Double-check all connections.
Download and Setup DJI Battery Repair Tool – Battery Killer
This software solution has been meticulously developed to unlock DJI Mavic batteries that feature bq9003 (bq40z307) chips, using the reliable CP2112 HID USB to SMBus/I2C adapter.
Next, establish a connection between the USB interface and your Windows computer using a micro USB cable.
Open the software and click on the "Connect" button. A successful connection and data retrieval indicate effective communication with the BMS.
To fully restore your battery's functionality:
Click on "Unseal" to remove the seal on the battery.
Proceed to click on "Clear PF" to eliminate any power failure flags.
Follow up with "Clear PF2" to address additional power failure flags.
Finally, click on "Reset Chip" to reset the battery.
By following these steps, you can successfully unlock your DJI battery and resolve any related issues.
DJI Drone Charging Resolved