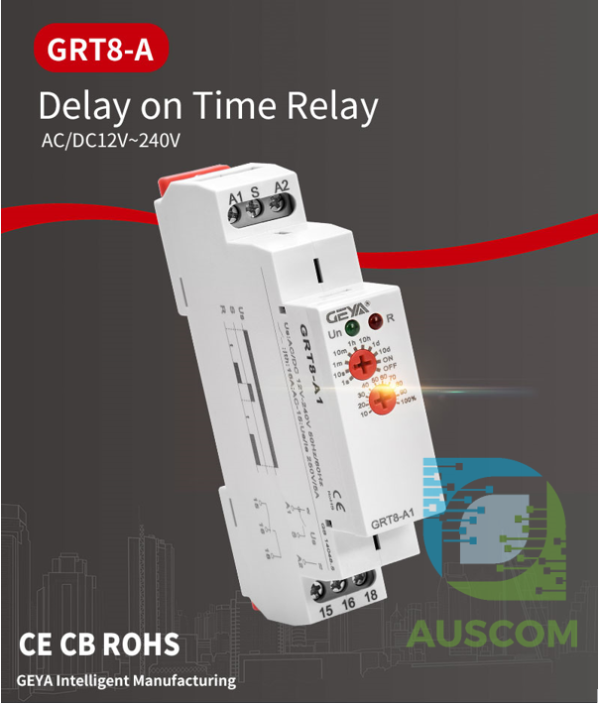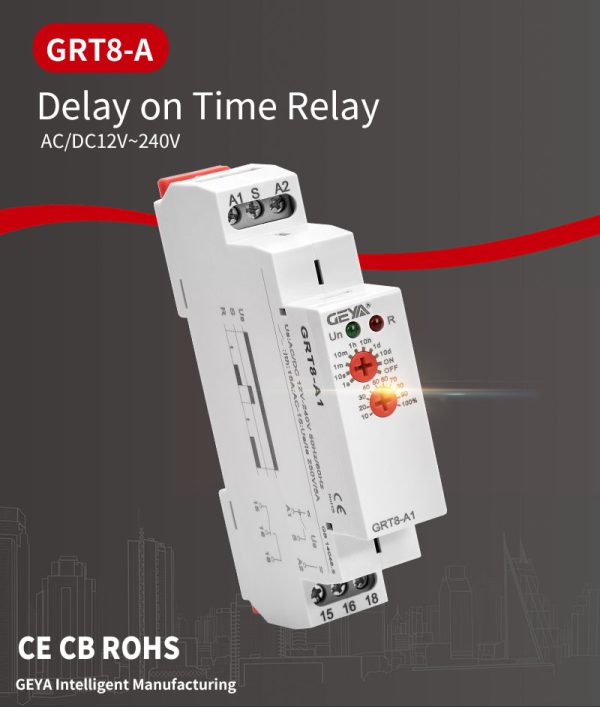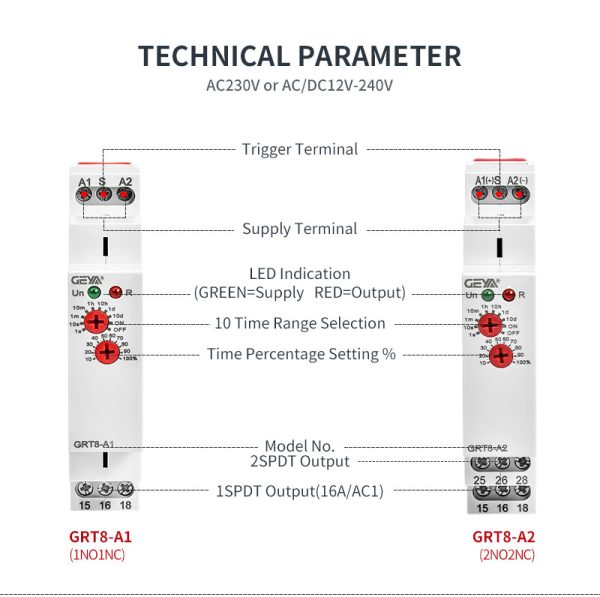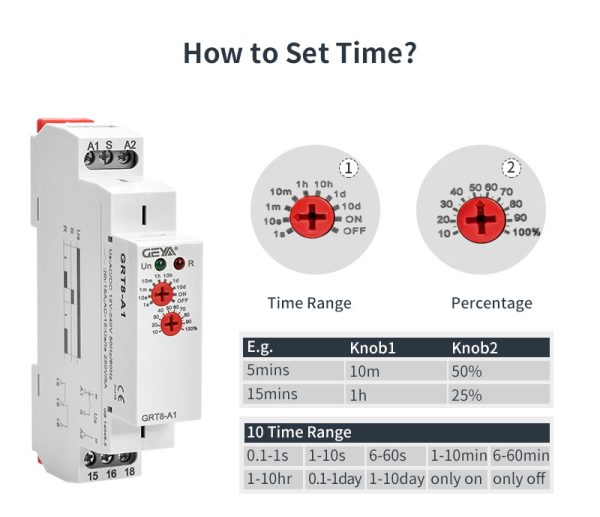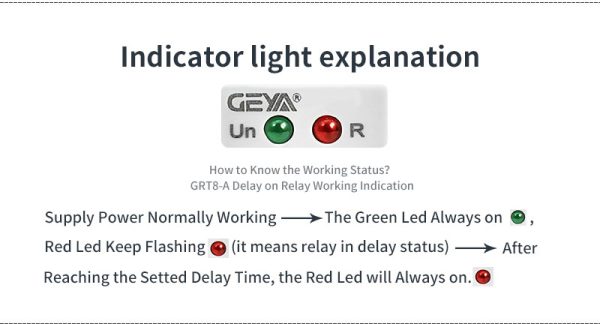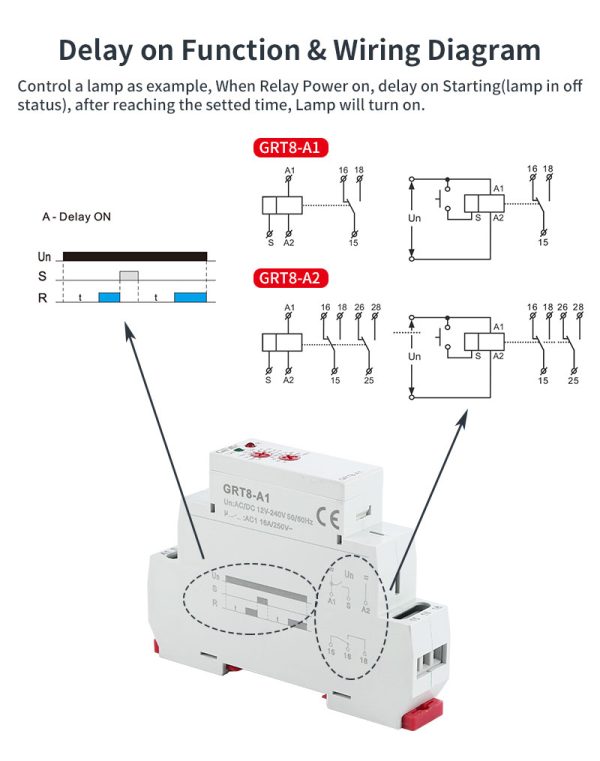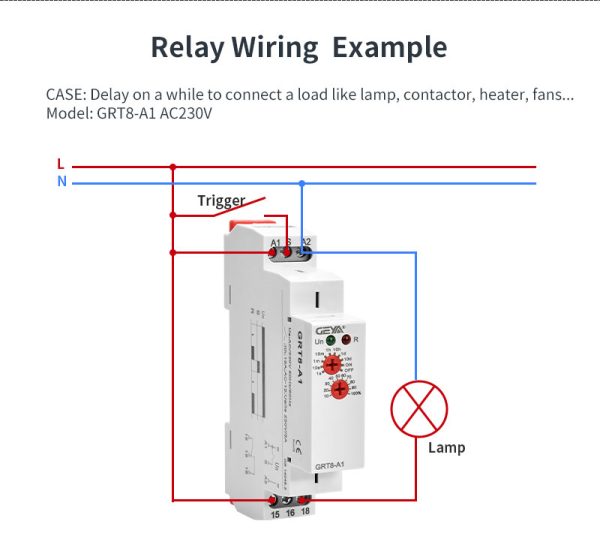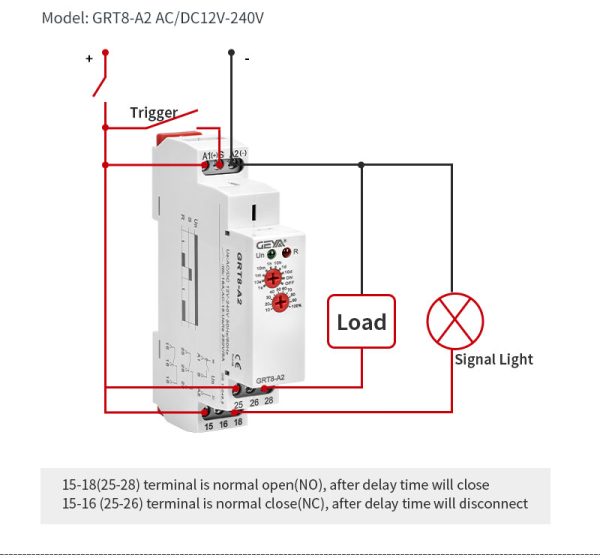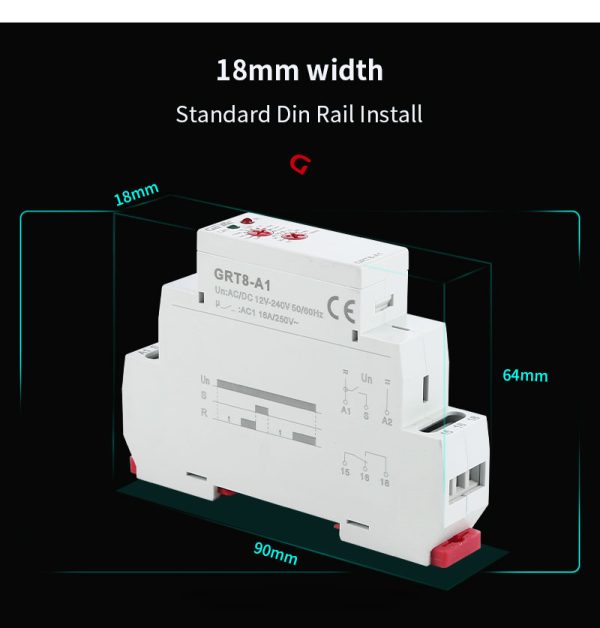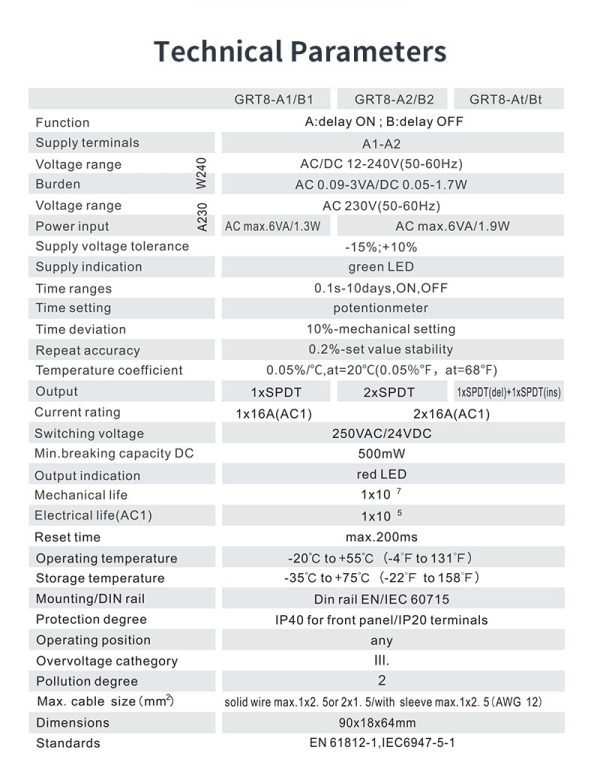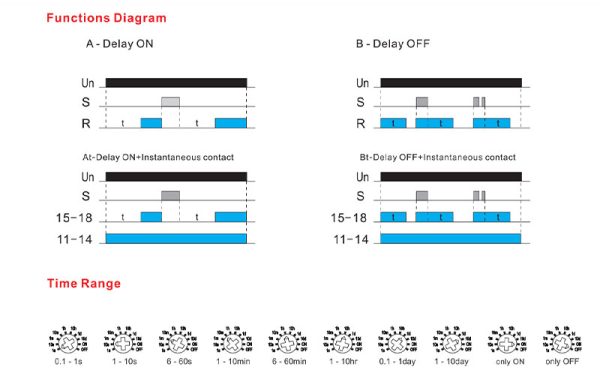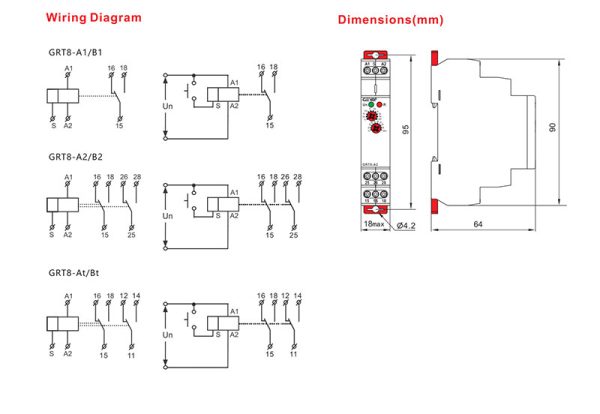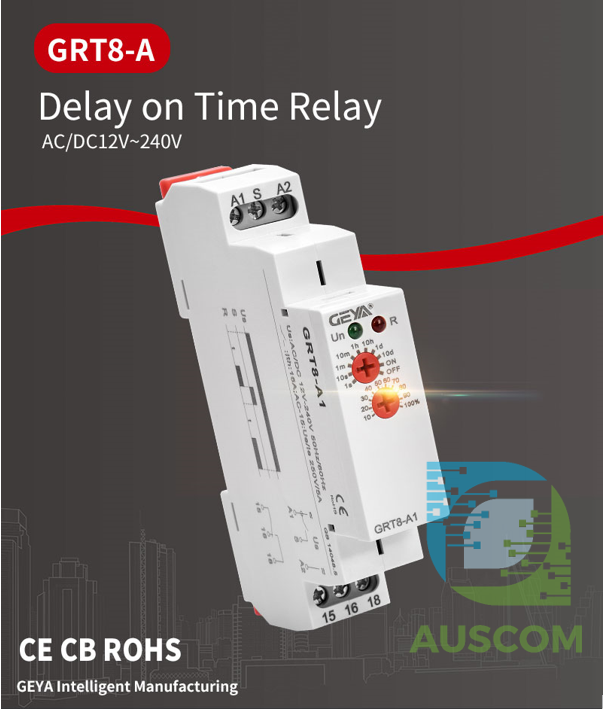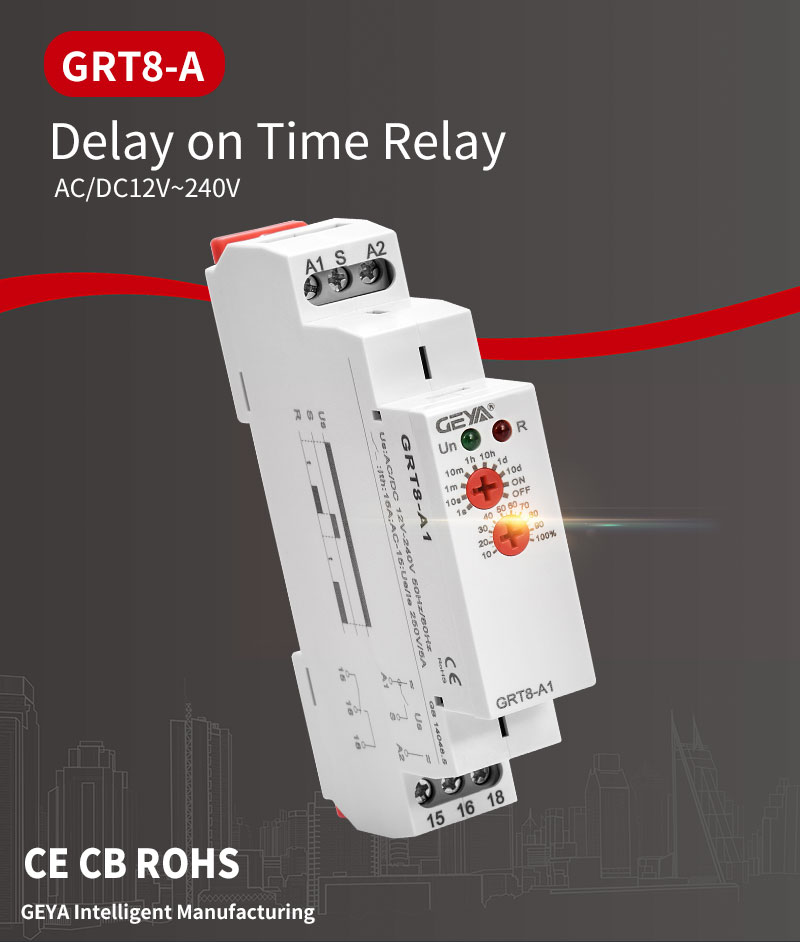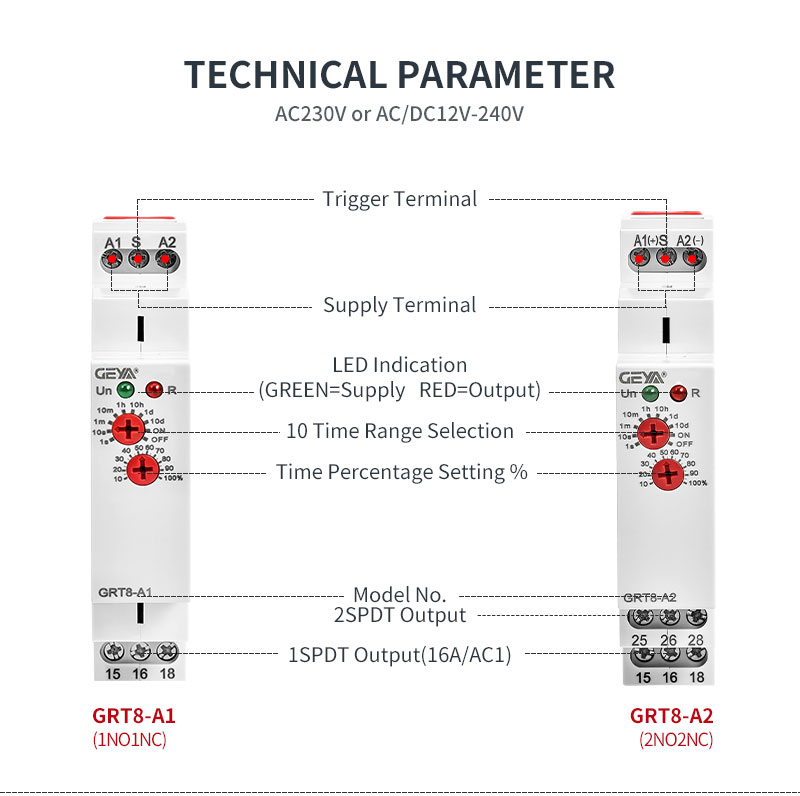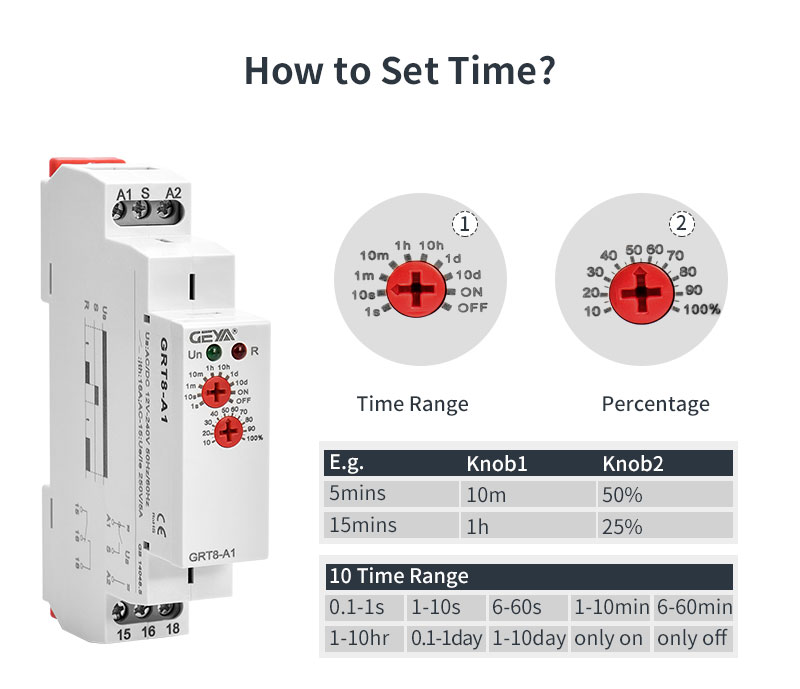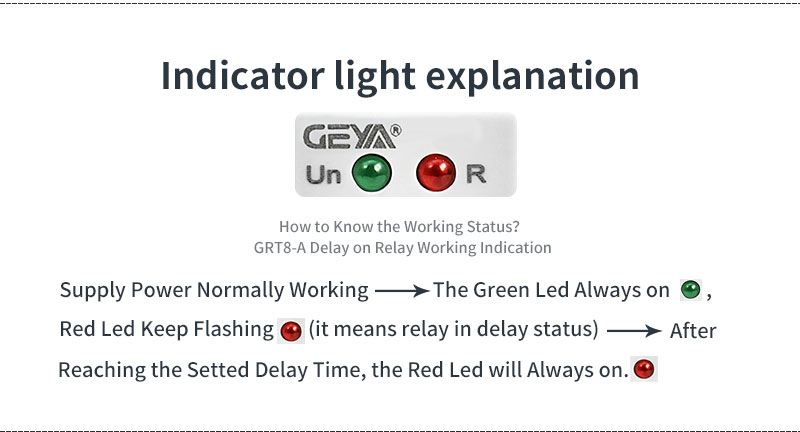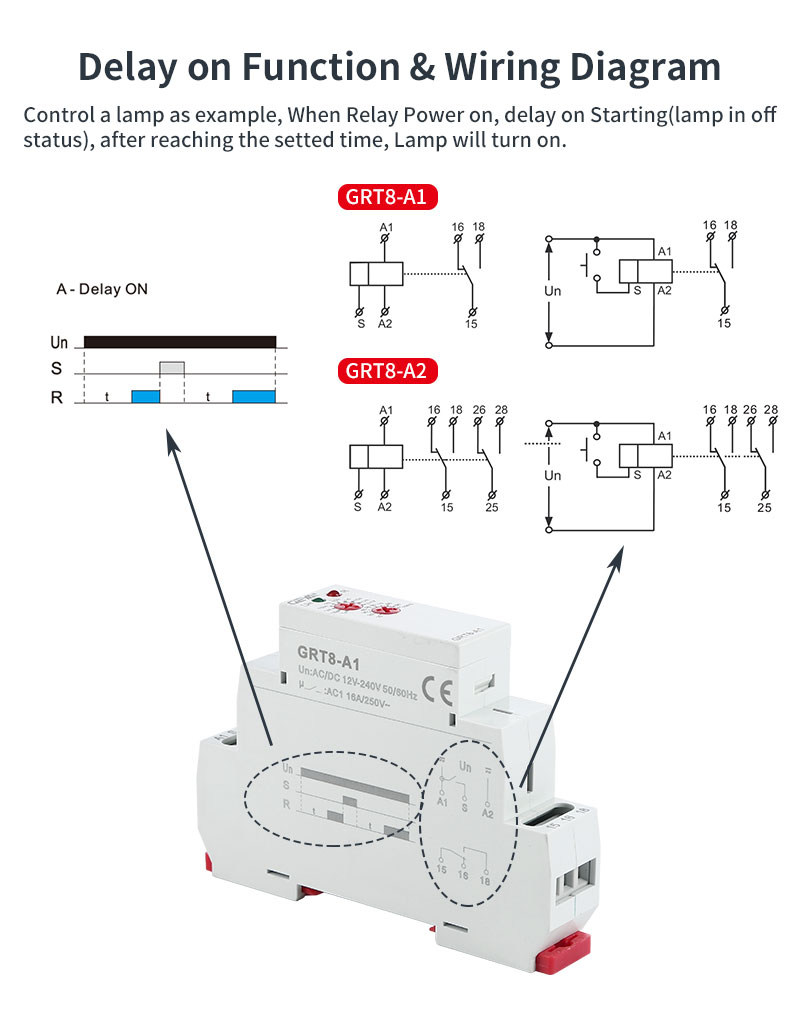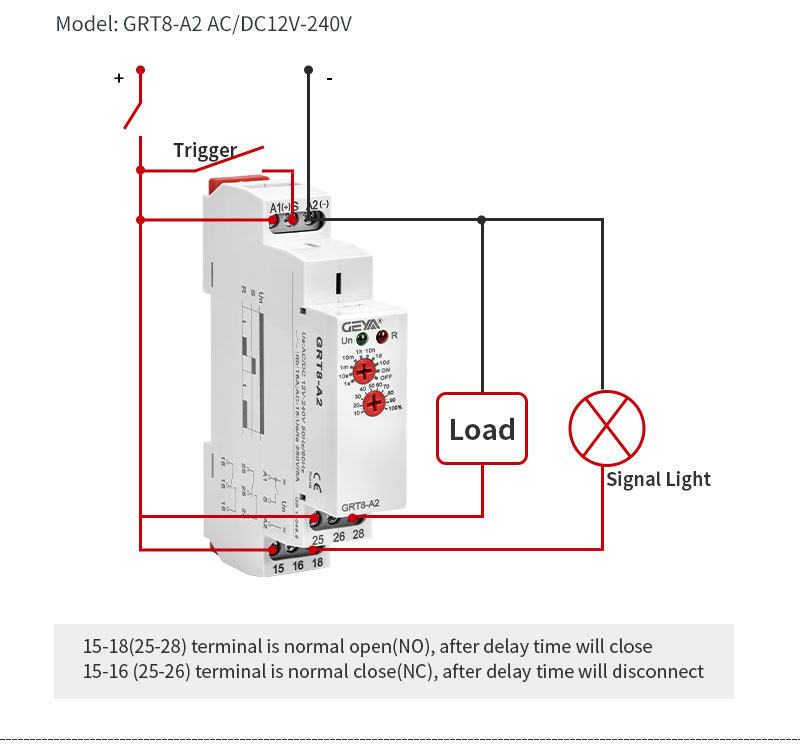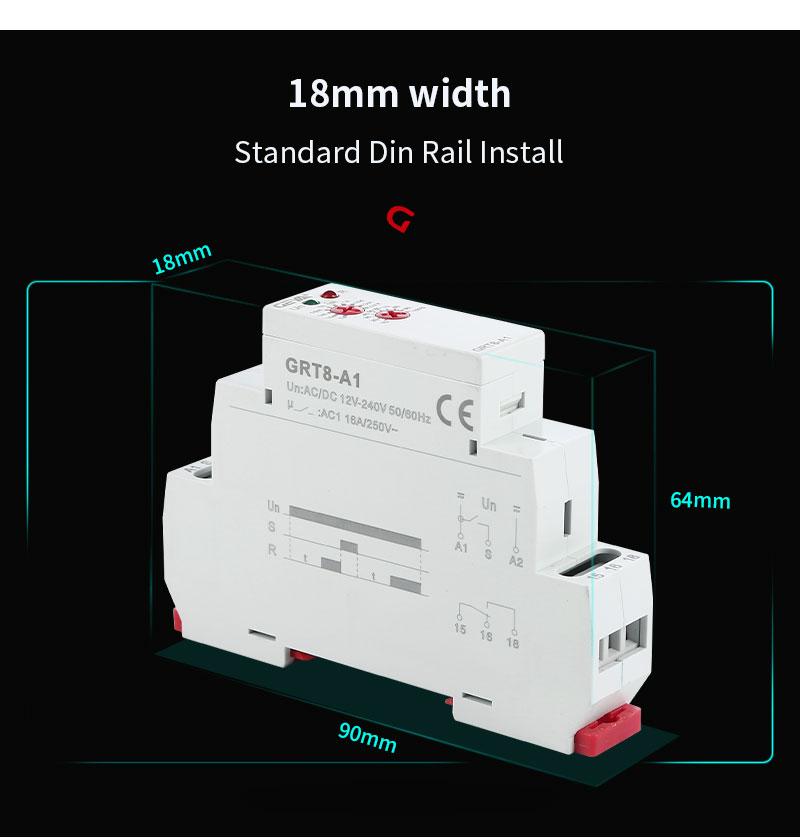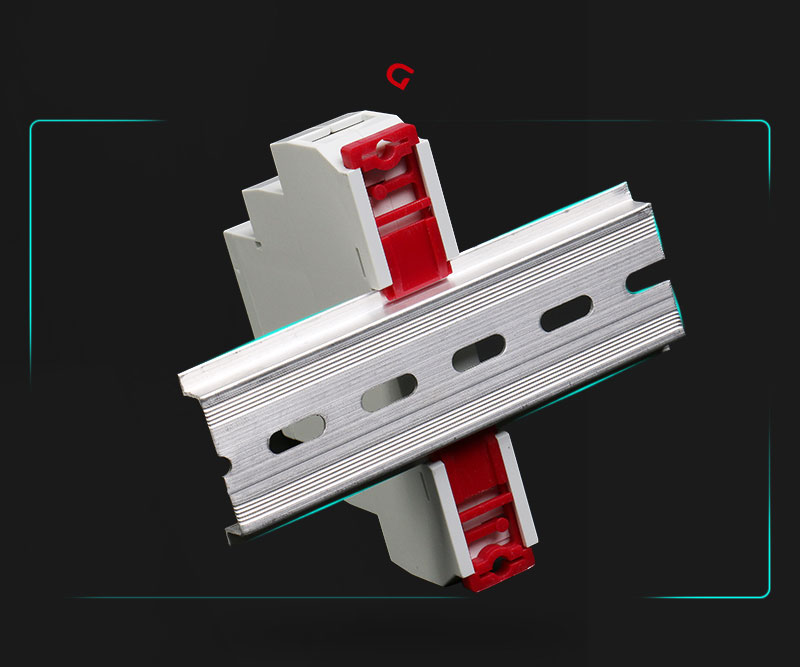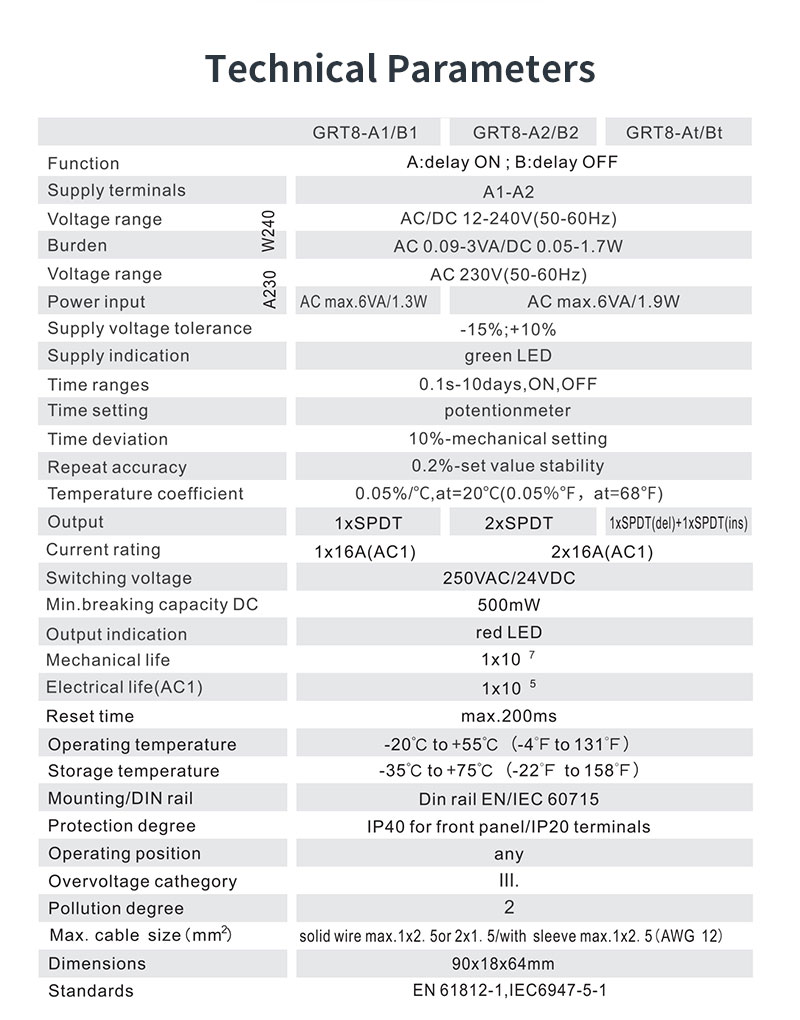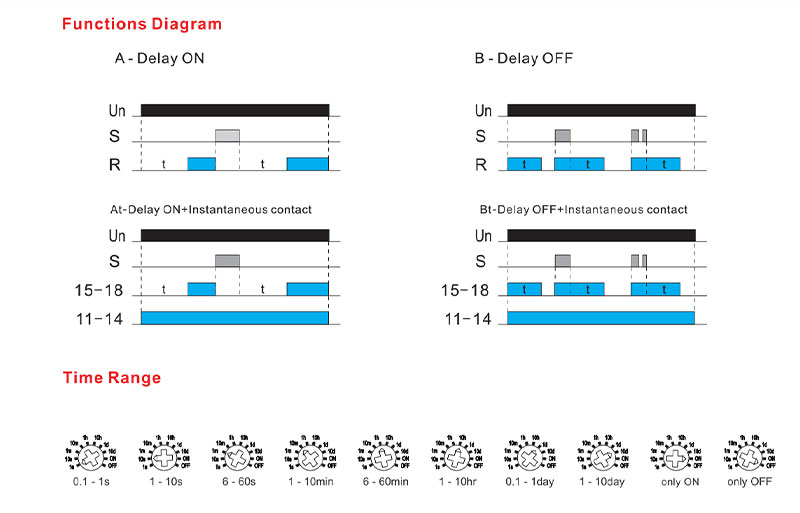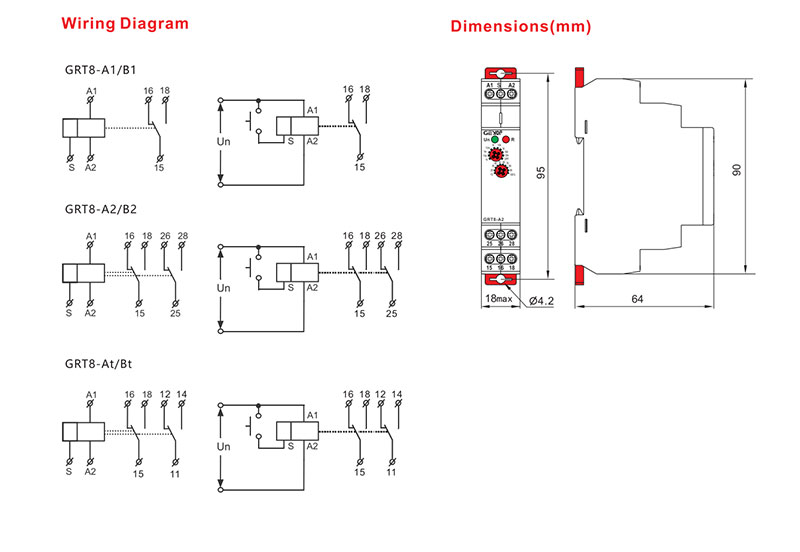 GEYA GRT8-A Electronic 16A SPDT ON Delay Timer Time Relay 12V 24V 220V DIN Rail Type AC/DC12-240V
$77.00 – $85.00 Inc. GST
Compare
Compare
Description
Additional information
Reviews (0)
Description
Enhance Your Control with GEYA GRT8-A Electronic Time Relay – Available in 12V, 24V, and 220V AC/DC
Discover the exceptional control capabilities of the GEYA GRT8-A Electronic Time Relay. Engineered for precision and convenience, this relay offers a seamless solution for managing time-based functions in various applications. With its versatile features and robust design, it's the ideal choice for tasks that demand accurate time delays.
Key Features:
Customizable Timing: Seamlessly adjust time settings using the built-in potentiometer. Achieve precise time delays tailored to your specific needs.
Multiple Functions: Choose between two distinct functions to meet your requirements: A: Delay ON – For situations demanding a delayed activation. B: Delay OFF – Perfect for scenarios requiring a delayed deactivation.
Fine-Tuned Time Scale: Operate within a time scale of 0.1 seconds, allowing for granular control over your timed actions.
Flexible Time Ranges: With 10 distinct time ranges spanning over 10 days, you can easily adapt the relay's performance to your unique scheduling needs.
Visual Status Indicator: Keep track of the relay's status effortlessly with the intuitive LED indicator. Stay informed about its operation at a glance.
Space-Efficient Design: Designed to optimize your space, the relay occupies just 1 module and is effortlessly mounted on a DIN rail.
Description:
Crafted to excel in scenarios where specific function and timing requirements are essential, the GEYA GRT8-A Electronic Time Relay is your answer to precision control. Whether you're managing pump decay time post-heating deactivation or orchestrating fan shutdowns, this relay empowers you with accuracy and reliability.
Take command of your timing needs with the GEYA GRT8-A Electronic Time Relay. Experience enhanced efficiency and control like never before. Choose the voltage variant that suits your setup – 12V, 24V, or 220V AC/DC. Elevate your operations today.
Technical parameters
GRT8-A1/B1
GRT8-A2/B2
GRT8-At/Bt
Function
A: delay ON; B: delay OFF
Supply terminals
A1-A2
Voltage range
AC/DC 12-240V(50-60Hz)
Burden
AC 0.09-3VA/DC 0.05-1.7W
Voltage range
AC 230V(50-60Hz)
Power input
AC max.6VA/1.3W
AC max.6VA/1.9W
Supply voltage tolerance
-15%;+10%
Supply indication
green LED
Time Ranges
0.1s-10days,ON,OFF
Time setting
potentiometer
Time deviation
10%-mechanical setting
Repeat accuracy
0.2%-set value stability
Temperature coefficient
0.05%/℃,at=20℃(0.05%℉,at=68℉)
Output
1×SPDT
2×SPDT
1×SPDT(del)+1×SPDT(ins)
Current rating
16A(AC1)
Switching voltage
250VAC/24VDC
Min.breaking capacity DC
500mW
Output indication
red LED
Mechanical life
1×107
Electrical life(AC1)
1×105
Reset time
max.200ms
Operating temperature
-20℃ to+55℃(-4℉to131℉)
Storage temperature
-35℃ to+75℃(-22℉to158℉)
Mounting/DIN rail
Din rail EN/IEC 60715
Protection degree
IP40 for front panel/IP20 terminals
Operating position
any
Overvoltage category
III.
Pollution degree
2
Max.cable size(mm 2)
solid wire max.1×2.5or 2×1.5/with sleeve max.1×2.5(AWG 12)
Tightening torque
0.4Nm
Dimensions
90×18×64mm
Weight
W240-61g,A230-61g
W240-81g,A230-80g
Standards
EN 61812-1,IEC6947-5-1
Additional information
| | |
| --- | --- |
| Weight | 85 g |
| Dimensions | 95 × 75 × 25 mm |
| Model | GRT8-A1, GRT8-A2 |
---
Only logged in customers who have purchased this product may leave a review.