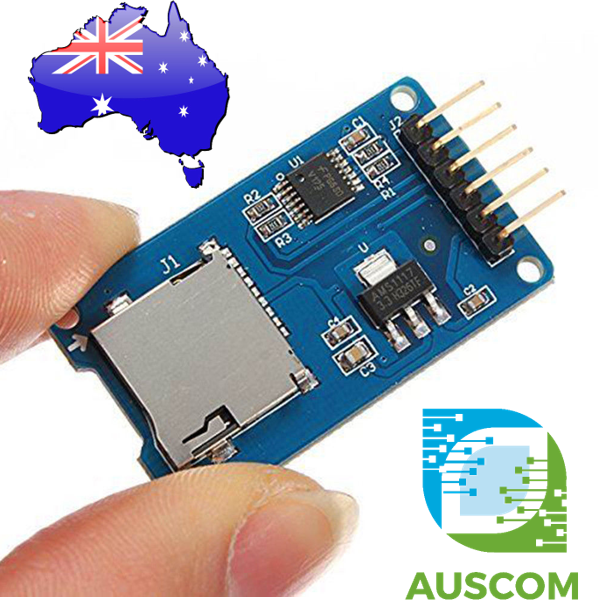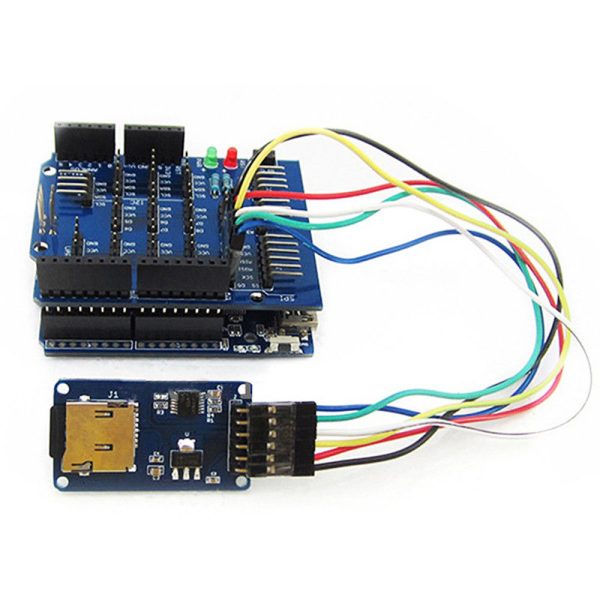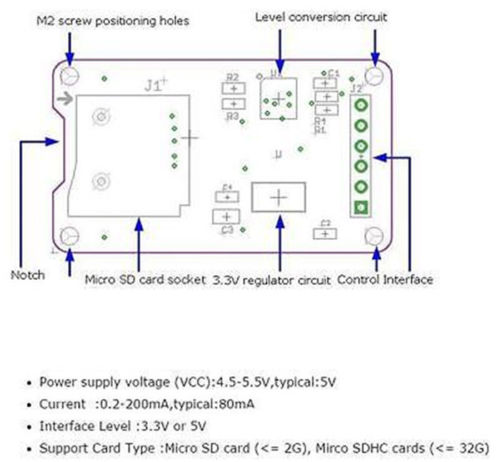 New Micro SD Card Module SPI for Arduino PIC Raspberry Pi
$5.20 Inc. GST
Compare
Compare
Description
Additional information
Reviews (0)
Description
Experience Seamless Data Management with Our Micro SD Card Reader Module
Unlock the potential of efficient data handling with our Micro SD Card Reader Module, designed to provide a seamless experience for reading and writing files from Micro SD cards. Engineered to interface with your SCM system through the SPI interface driver, this module offers a simple and effective solution for data storage and retrieval. Whether you're an Arduino enthusiast or an electronics aficionado, our module makes it effortless to integrate Micro SD card functionality into your projects.
Key Features:
Universal Compatibility: Our module supports both Micro SD and Micro SDHC cards, including high-speed variants, ensuring compatibility with a wide range of memory card options.
Flexible Voltage Support: The board boasts a cutting-edge voltage conversion circuit, offering seamless compatibility with both 5V and 3.3V interfaces, providing a versatile solution for various setups.
Reliable Power Supply: Operating within a voltage range of 4.5V to 5.5V, the module features a 3.3V voltage regulator circuit to ensure stable and consistent power delivery to your connected devices.
Efficient Communication: With a standard SPI interface, our module establishes a robust communication link, allowing smooth and rapid data exchange between your system and the Micro SD card.
Simple Installation: Equipped with M2 screw positioning holes, our module simplifies the installation process, making it a hassle-free addition to your projects.
Interface Breakdown:
Control Interface: Utilizing six pins—GND, VCC, MISO, MOSI, SCK, CS—our module's control interface offers clear and straightforward connectivity. Connect GND to ground, VCC to the power supply, and leverage MISO, MOSI, SCK, and CS for seamless SPI communication and chip selection.
3.3V Regulator Circuit: Our module incorporates an LDO regulator that outputs a stable 3.3V level, powering the level conversion chip as well as your Micro SD card, ensuring optimal performance.
Level Conversion Circuit: Seamlessly converting the signal direction of Micro SD card inputs to 3.3V, this circuit facilitates smooth communication with various AVR microcontroller systems.
Micro SD Card Connector: Featuring a user-friendly self-locking mechanism, the Micro SD card connector streamlines the card insertion process, ensuring a secure connection.
Technical Specifications:
Dimensions: Board Length – 38mm, Board Width – 18mm
Included in the Package:
1 x Micro SD Card Module tailored for Arduino projects
Elevate your data management capabilities and embark on a journey of seamless file storage and retrieval. With our Micro SD Card Reader Module, efficiency meets simplicity, offering you a powerful tool for your projects. Get yours today and experience the future of data handling.
Additional information
| | |
| --- | --- |
| Weight | 20 g |
| Dimensions | 260 × 160 × 10 mm |
---
Only logged in customers who have purchased this product may leave a review.