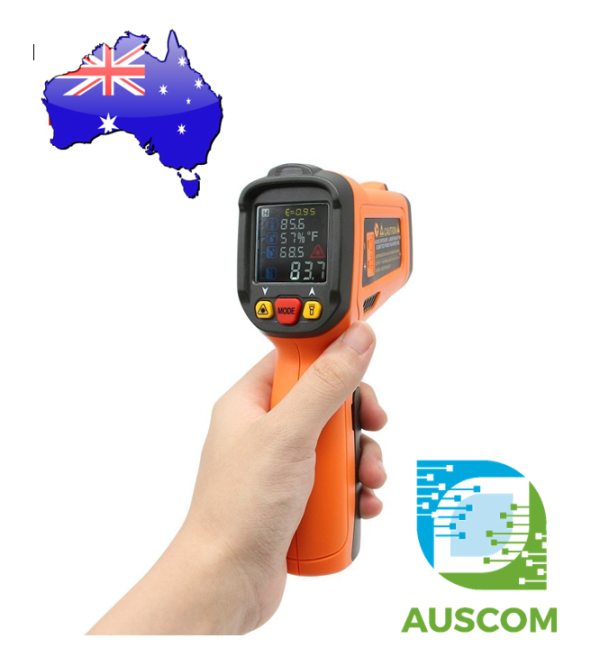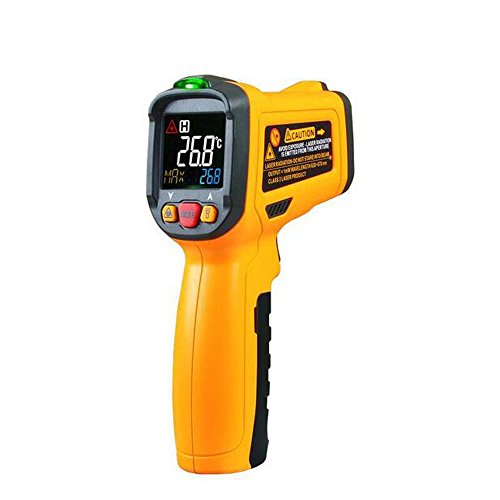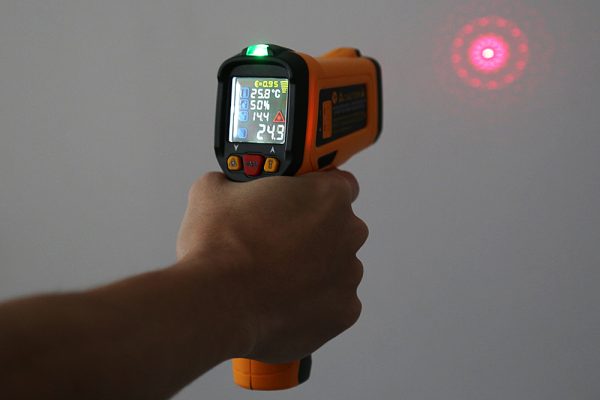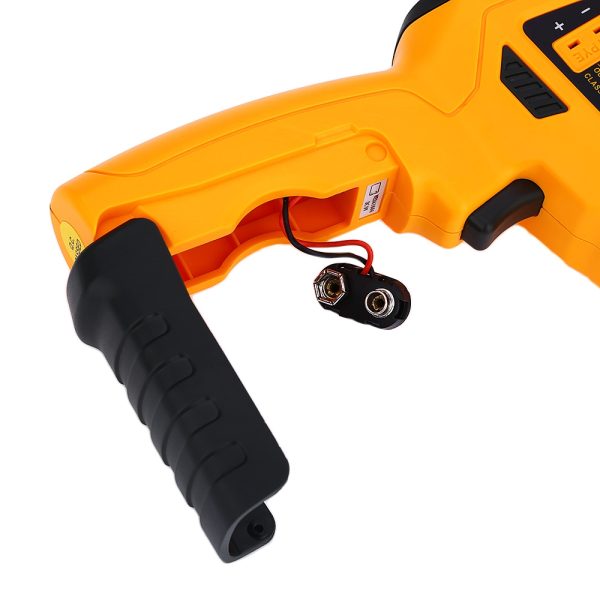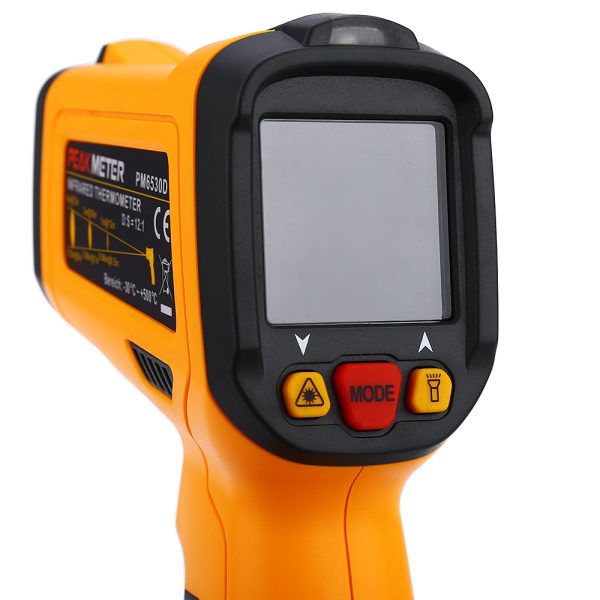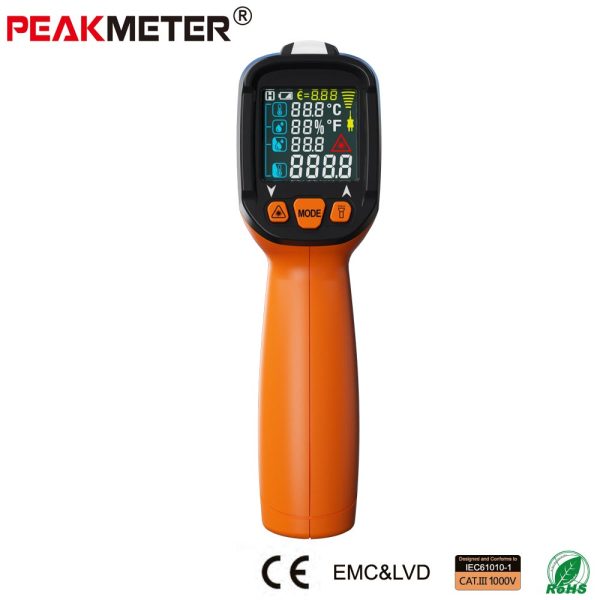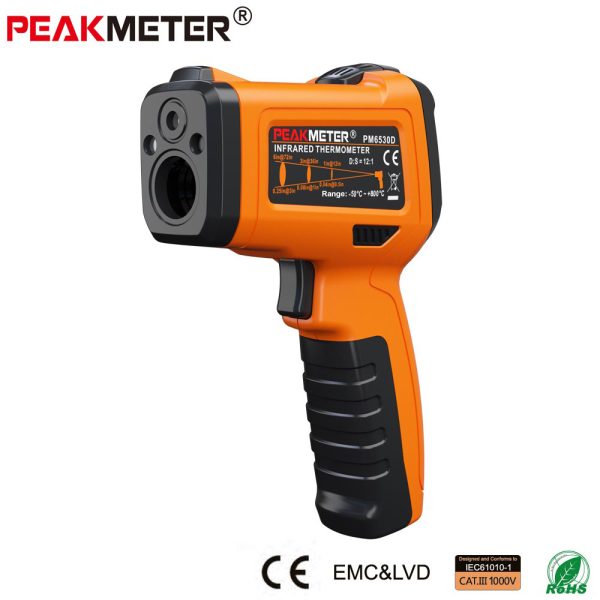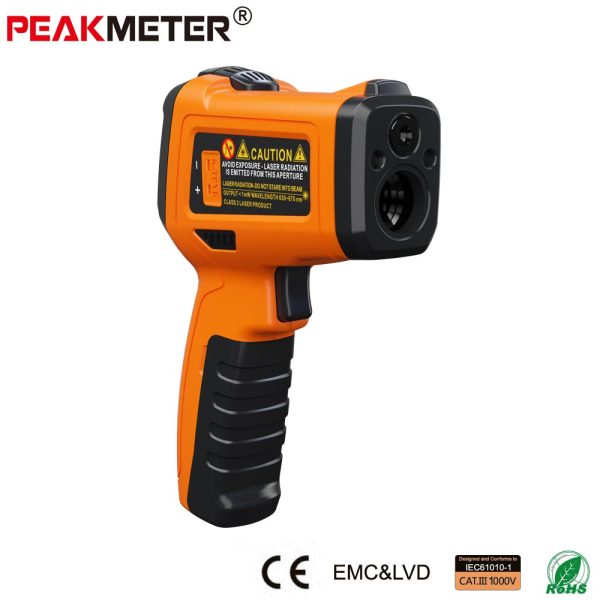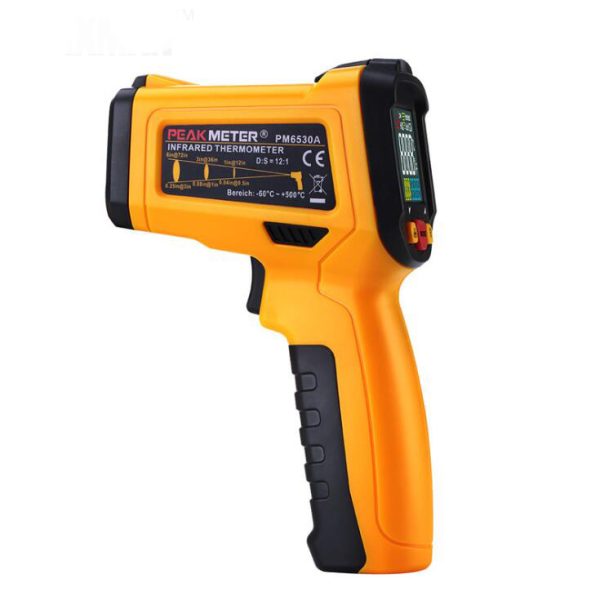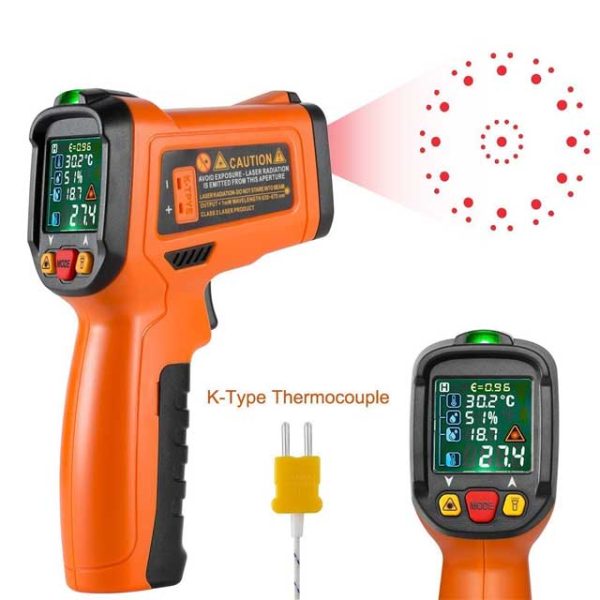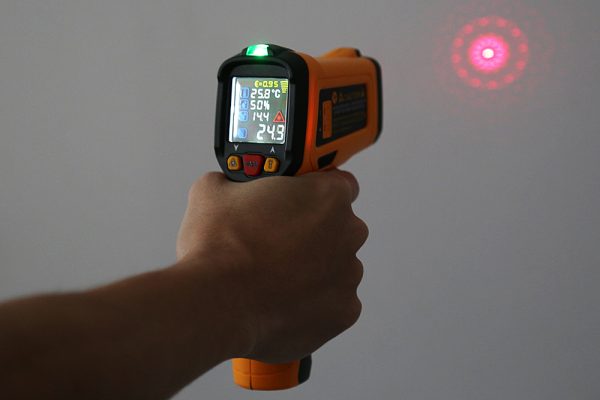 Peakmeter PM6530D Non Contact -50 to 800°C Temperature Thermometer IR Laser Gun
$74.95 Inc. GST
Compare
Compare
Description
Additional information
Reviews (0)
Description
Elevate Your Temperature Measurements with the PEAKMETER PM6530D Handheld Infrared Thermometer
Experience accurate and versatile temperature readings with the PEAKMETER PM6530D Handheld Infrared Thermometer. Crafted with precision and innovation, this thermometer is designed to cater to both industrial and household needs, making it an indispensable tool for various applications.
Key Features:
1. Wide Application Spectrum: Whether you're dealing with transformer substations, food processing, gold metallurgy, ovens, indoor temperatures, or air conditioning units, the PM6530D is engineered to excel. Its adaptability ensures reliability across diverse settings.
2. Swift and Efficient Readings: A single trigger press activates the laser, which locks onto the target for rapid and precise temperature assessment. This quick response time enhances efficiency in tasks that demand swift measurements.
3. Enhanced Accuracy with Built-in Laser: Boasting an exceptional distance-to-spot ratio of 12:1, the built-in laser guarantees accurate results even from greater distances. The PM6530D stands apart from other thermometers by delivering reliable readings across varying ranges.
4. Non-Contact Convenience: The integrated laser technology enables contactless temperature measurement, eliminating the need for physical interaction. This touch-free capability not only enhances safety but also ensures that measured objects remain unharmed.
5. Ergonomic Pistol-Shaped Design: The PM6530D's ergonomic pistol-shaped design offers both comfort and practicality. The handle's textured stripes provide a secure grip, minimizing the risk of accidental drops.
6. High-Definition Backlight: Equipped with a high-definition backlight, the thermometer facilitates easy reading in low-light or dark environments, catering to your diverse usage scenarios.
7. Seamless Unit Conversion: Effortlessly switch between Centigrade and Fahrenheit to accommodate varying measurement preferences, demonstrating the PM6530D's versatility.
8. Energy-Efficient and Eco-Friendly: Operating on just one 6F22 battery (not included), the PM6530D boasts an energy-efficient design that aligns with eco-conscious values, translating to long-term cost savings.
9. User-Centric Design: Automatic power-off and laser shutdown functionalities extend battery life, enhancing practicality and convenience in your temperature assessment tasks.
Specifications:
Temperature Range: -50°C to 800°C / -58°F to 1022°F
Response Time: < 0.5 seconds
Spectral Response: 8 – 14 micrometers
Adjustable Emissivity: 0.10 – 1.00
Distance to Spot Size Ratio: 12:1
Auto Power Off: Yes
UV Light: Yes
Data Hold: Yes
Power Source: 1 x 6F22 9V Battery (not included)
Important Notes:
Avoid using solvents on the plastic lens for cleaning.
Do not submerge the unit in water.
Package Contents:
1 x PEAKMETER PM6530D Infrared Thermometer
1 x Probe
Upgrade your temperature measurement capabilities with the PEAKMETER PM6530D Handheld Infrared Thermometer. Its advanced features, ergonomic design, and precise measurements make it an indispensable tool for professionals and households alike. Order yours now to experience accuracy and efficiency in temperature assessment like never before.
Additional information
| | |
| --- | --- |
| Weight | 290 g |
| Dimensions | 190 × 125 × 65 mm |
---
Only logged in customers who have purchased this product may leave a review.