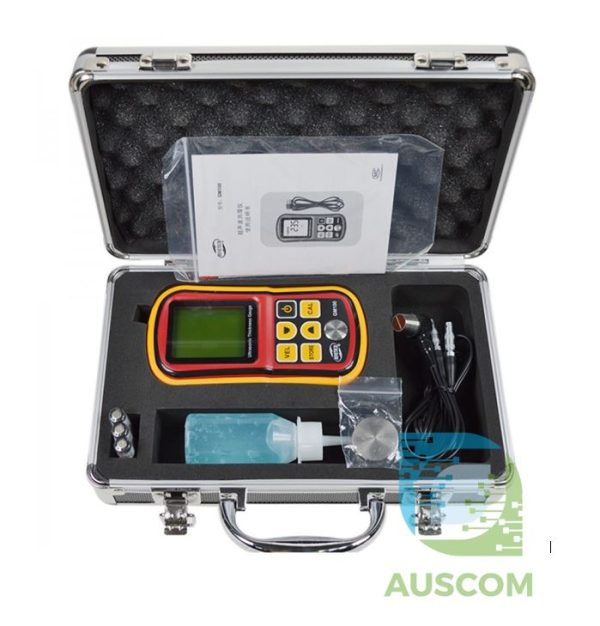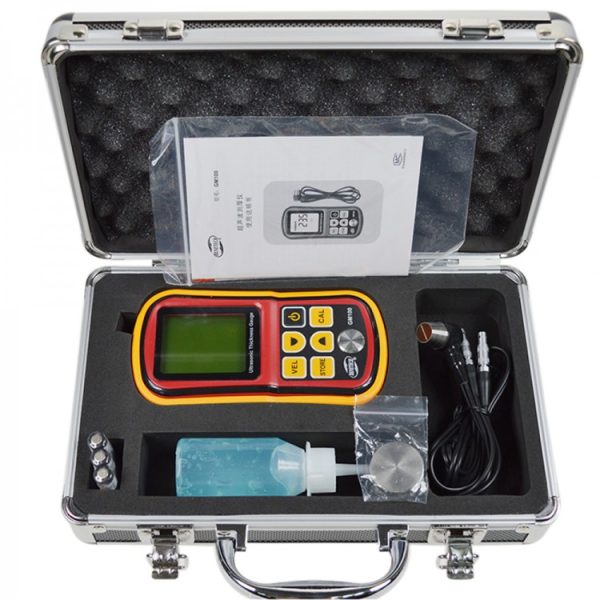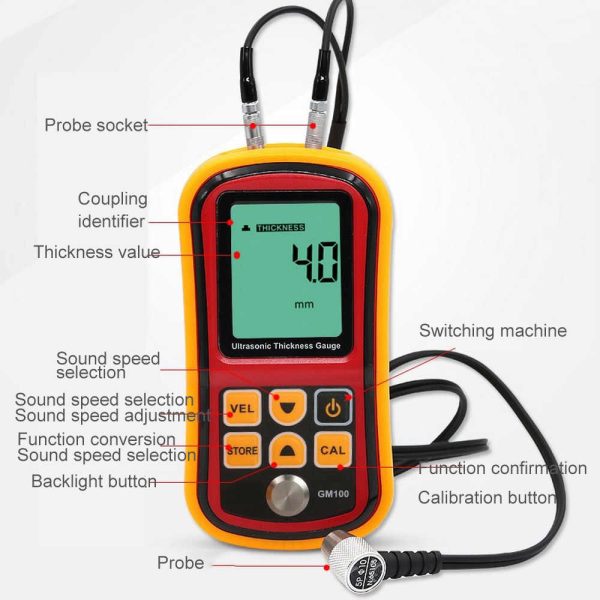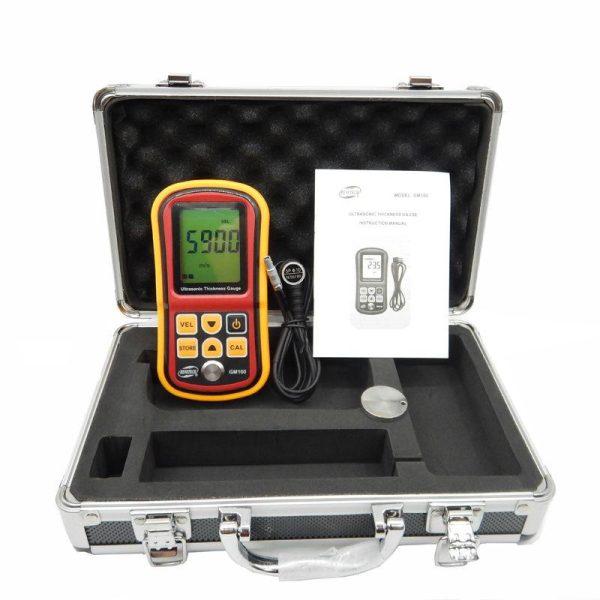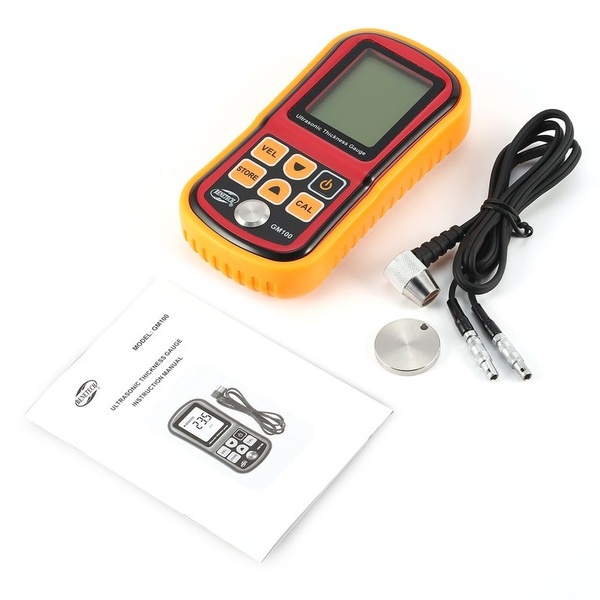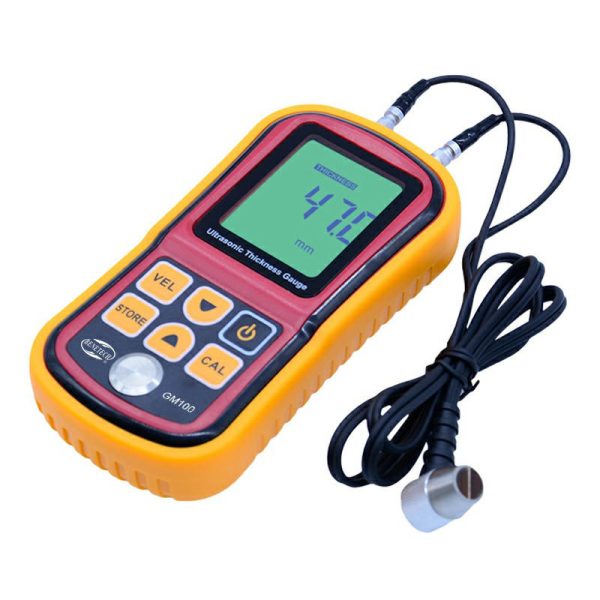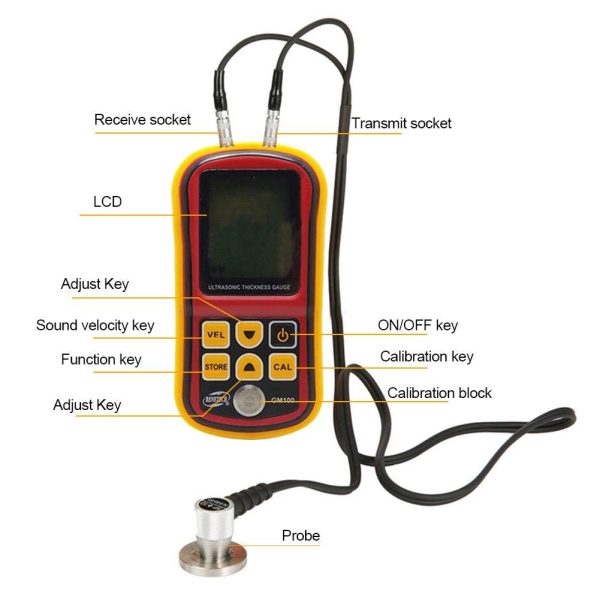 GM100 LCD Digital Ultrasonic Thickness Gauge Tester For Steel Width 1.2-220mm
$250.00 Inc. GST
Compare
Compare
Description
Additional information
Reviews (0)
Description
Experience Accurate Measurements with the GM100 LCD Digital Ultrasonic Thickness Gauge Tester for Steel (1.2-220mm)
Introducing the GM100 LCD Digital Ultrasonic Thickness Gauge Tester, a cutting-edge solution designed to elevate your measurement accuracy for steel materials. With its sleek Black & Red design, this professional ultrasonic thickness gauge brings innovation to the forefront, ensuring reliable results for your needs. Whether you're in quality control, manufacturing, or any industry requiring precise measurements, the GM100 is your go-to choice.
Key Features:
Auto Calibration: The GM100 guarantees pinpoint accuracy through its auto calibration feature, providing you with measurements you can trust.
Auto Linear Compensation: Our advanced software corrects non-linear accuracy issues in transducers, pushing precision boundaries further.
Data Management: Easily store, recall, and delete data, streamlining your workflow and enhancing efficiency.
Coupling Status Indication: Instantly determine if coupling is successful by observing the coupling icon, eliminating guesswork.
Sound Velocity Measurement: By measuring sound velocity with the provided sample hardware, you avoid the hassle of conversions or reference tables.
Adjustable Sound Velocities: With 12 sound velocities available for different materials, all adjustable, you're in control of your measurements.
Large Backlit LCD Display: Experience effortless readings even in low-light conditions, thanks to our large LCD display with backlight.
Long Battery Life: Our product boasts over 10,000 usage cycles, ensuring longevity and reliability.
Technical Specifications:
Display: Clear 4-digit LCD display.
Thickness Range: 1.2 to 225.0mm (steel).
Accuracy: +/- (1%H+0.1)mm, providing precise measurements.
Resolution: Achieve accuracy with a 0.1mm resolution.
Working Frequency: Operating at 5MHz for optimal performance.
Minimum Tube Measuring Limit: A minimum of 20*3mm for steel tubes.
Sound Velocity Range: Ranging from 1000 to 9999 m/s.
Operating Temperature: Functioning flawlessly within 0 to 40°C.
Power Supply: Powered by 3*1.5V AAA alkaline batteries (batteries not included).
Weight: A lightweight design at 202g, ensuring easy handling.
Size: Compact dimensions of 7214629mm for enhanced portability.
Package Includes:
1 x Ultrasonic Thickness Meter
1 x 10mm, 5MHz Transducer
1 x 4mm Sample Block
1 x Operating Manual
1 x Carry Case
Please note that this package does not include ultrasonic gel or batteries. You can easily acquire ultrasonic gel from most pharmacies.
Elevate your measurement precision with the GM100 LCD Digital Ultrasonic Thickness Gauge Tester. Order now and experience accuracy like never before.
Additional information
| | |
| --- | --- |
| Weight | 1100 g |
| Dimensions | 260 × 190 × 90 mm |
---
Only logged in customers who have purchased this product may leave a review.