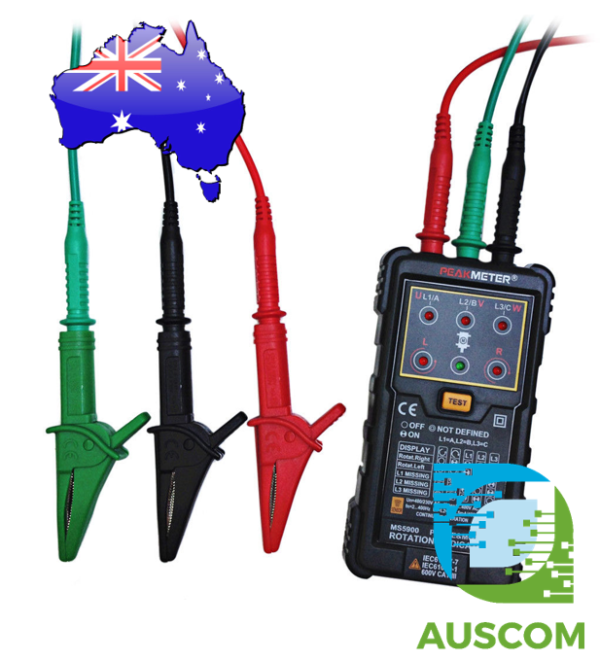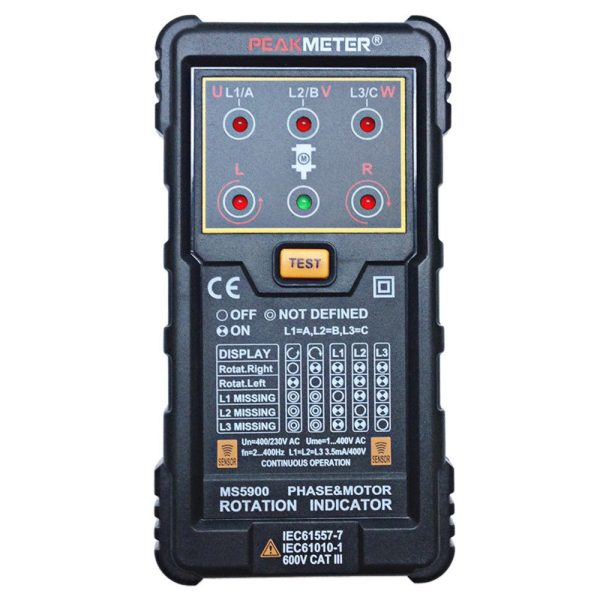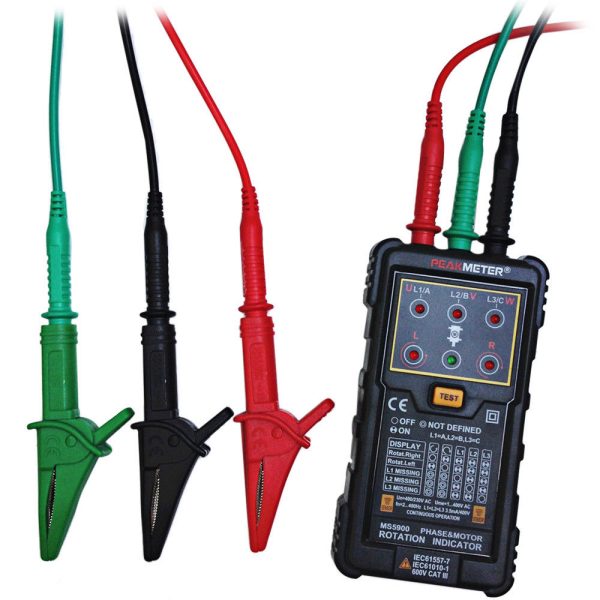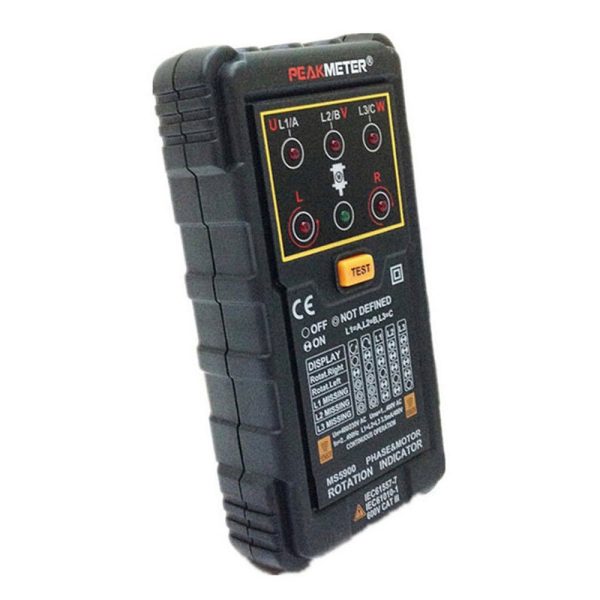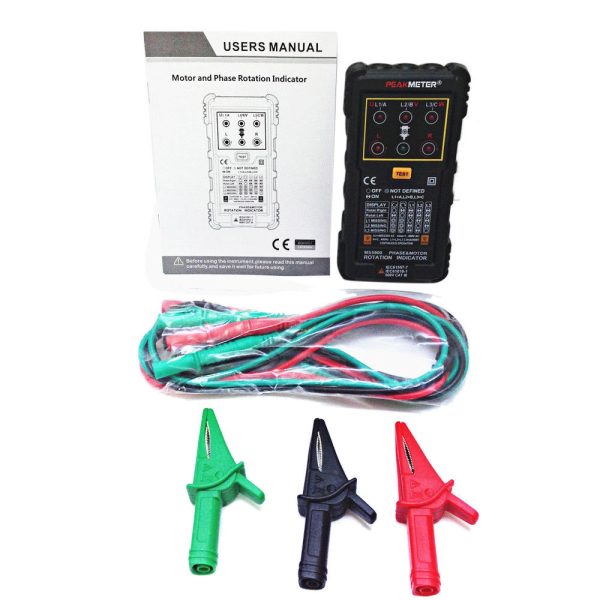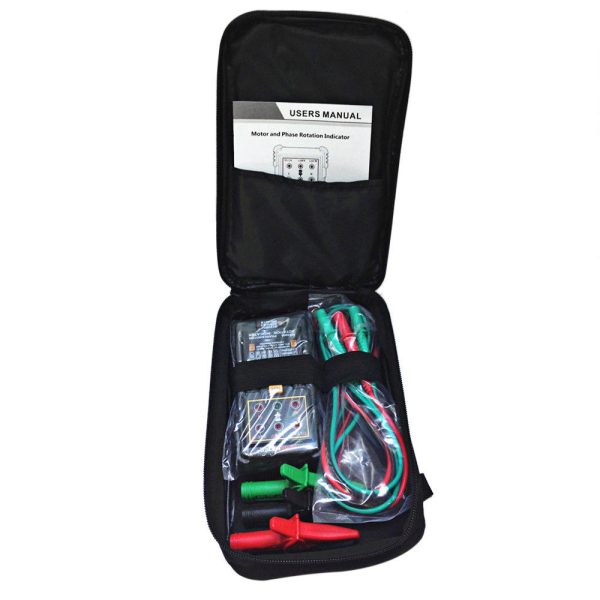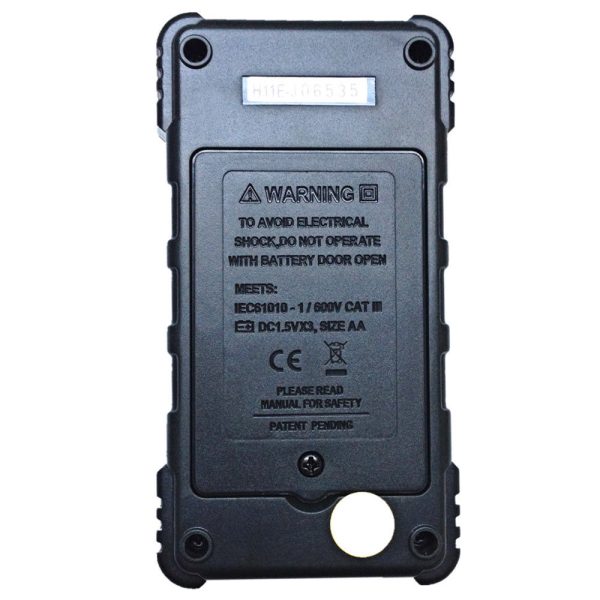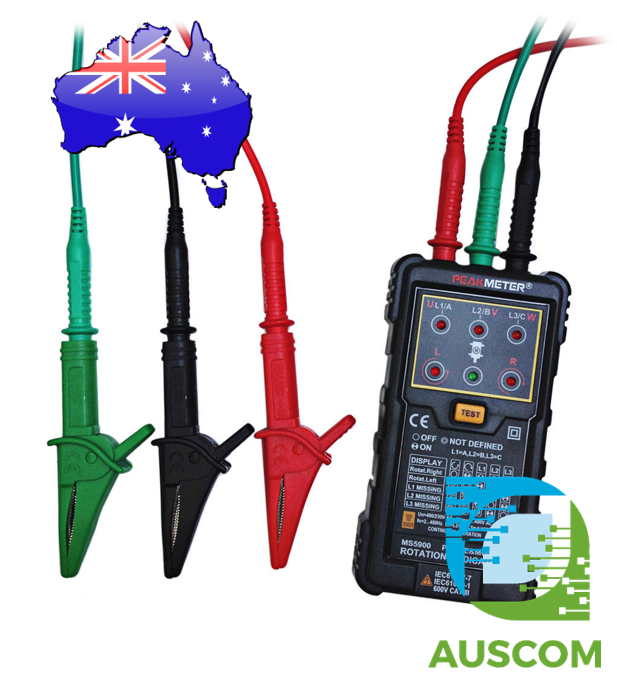 PEAKMETER MS5900 3 Motor Phase Rotation Indicator Meter Sequence Tester LED
$92.50 Inc. GST
Compare
Compare
Description
Additional information
Reviews (0)
Description
Introducing the PEAKMETER MS5900 3 Motor Phase Rotation Indicator: Your Ultimate Sequence Tester
Experience efficiency and precision like never before with the cutting-edge PEAKMETER MS5900 3 Motor Phase Rotation Indicator. Designed to streamline your operations, this remarkable device is a game-changer in the world of electrical testing and diagnostics.
Key Features:
Advanced Technology, Proven Accuracy: The MS5900 employs advanced technology to accurately determine the magnetic field direction of three-phase systems, making it an indispensable tool for assessing phase rotation and motor rotation direction. Say goodbye to guesswork and embrace data-driven decision-making.
Simplified Motor Rotation Analysis: Bid farewell to cumbersome testing procedures. With the MS5900, there's no need to connect to testing lines. Effortlessly ascertain motor rotation direction by positioning the indicator above the motor and aligning it with the motor drive shaft. Swift and hassle-free, the MS5900 enhances your workflow.
Durable Build, Lightweight Design: Crafted from a robust combination of ABS and PVC materials, the MS5900 is built to withstand the rigors of professional use. Its lightweight nature ensures easy portability, making it the perfect companion for technicians, installers, and maintenance professionals.
Unmatched Specifications:
Operating Voltage: 120~400V AC
Current Consumption: 20mA
Frequency Range: 2Hz ~ 400Hz
Dimensional Excellence:
Compact yet feature-packed, the MS5900 boasts dimensions of 5.04 inches by 2.76 inches by 1.18 inches (12.8 cm x 7 cm x 3 cm), ensuring it seamlessly integrates into your workspace without occupying valuable real estate.
Package Contents:
Your purchase includes:
1 x PEAKMETER MS5900 3 Motor Phase Rotation Indicator
Powering Possibilities:
The MS5900 is powered by a 9V 6F22 battery (not included), ensuring reliable performance whenever you need it.
Elevate Your Workflow:
Whether you're installing, repairing, or maintaining three-phase systems or motors, the PEAKMETER MS5900 3 Motor Phase Rotation Indicator is your go-to solution. Experience the convenience of accurate testing at your fingertips and make informed decisions with confidence.
Upgrade to the PEAKMETER MS5900 today and revolutionize the way you approach motor and phase rotation testing. Your journey to enhanced productivity starts here.
Additional information
| | |
| --- | --- |
| Weight | 410 g |
| Dimensions | 240 × 140 × 55 mm |
---
Only logged in customers who have purchased this product may leave a review.