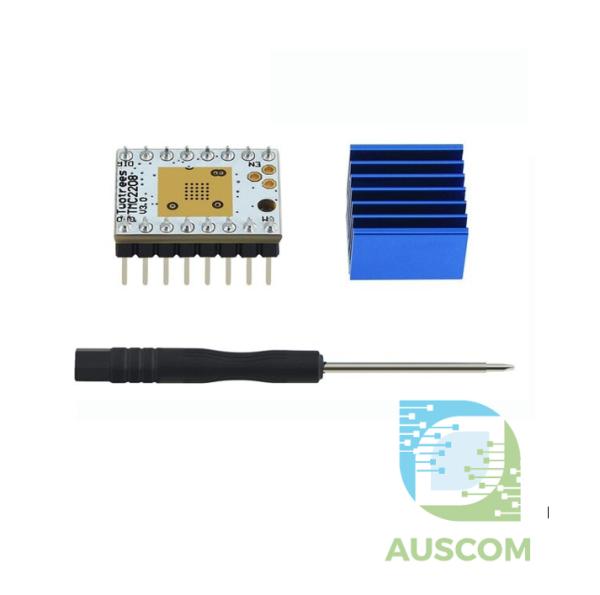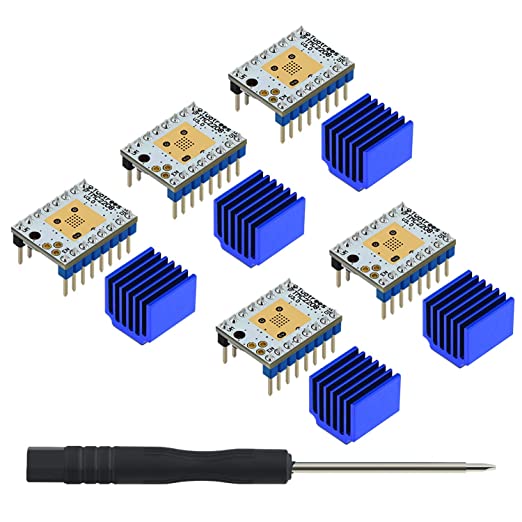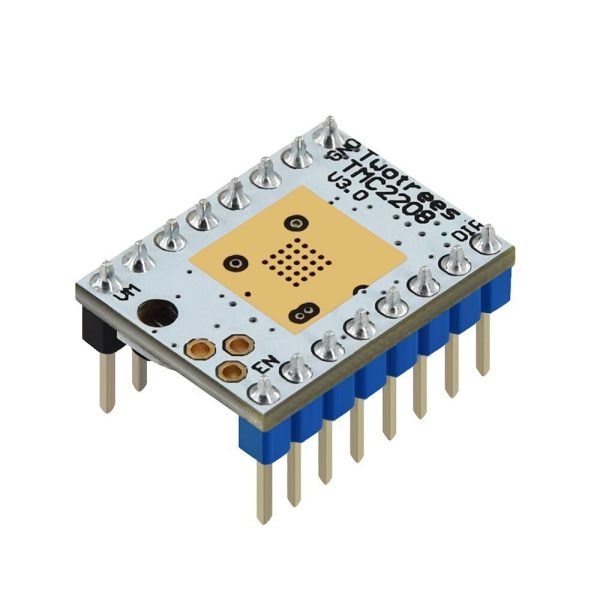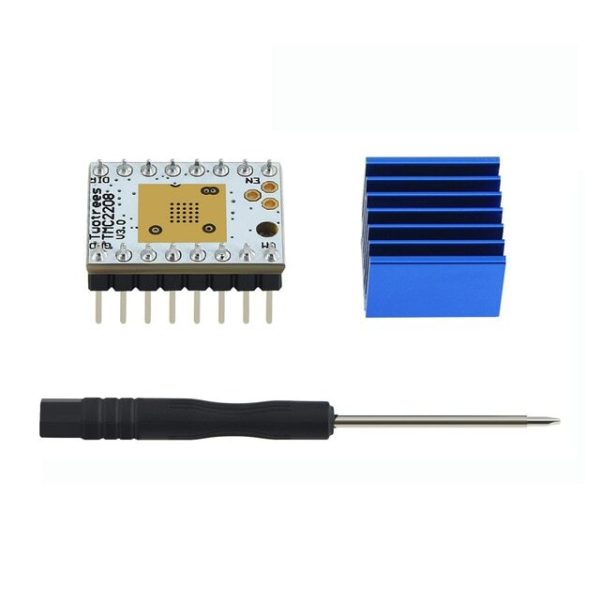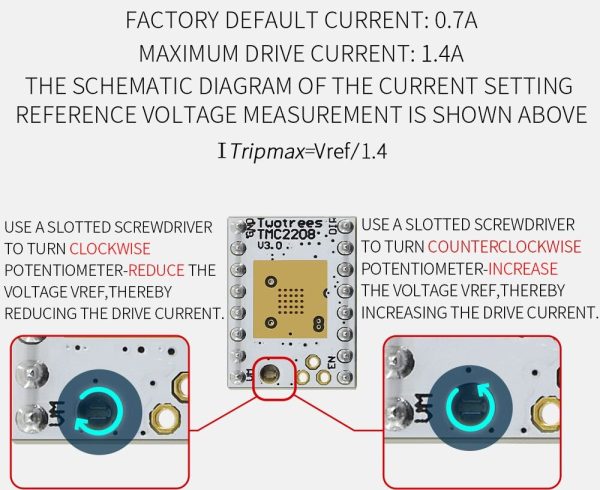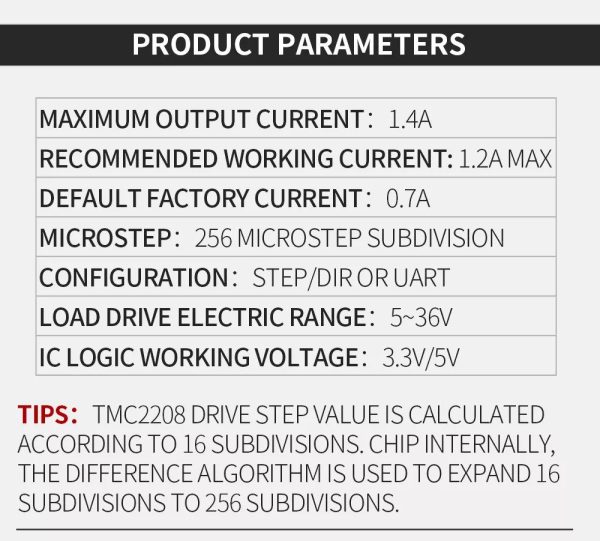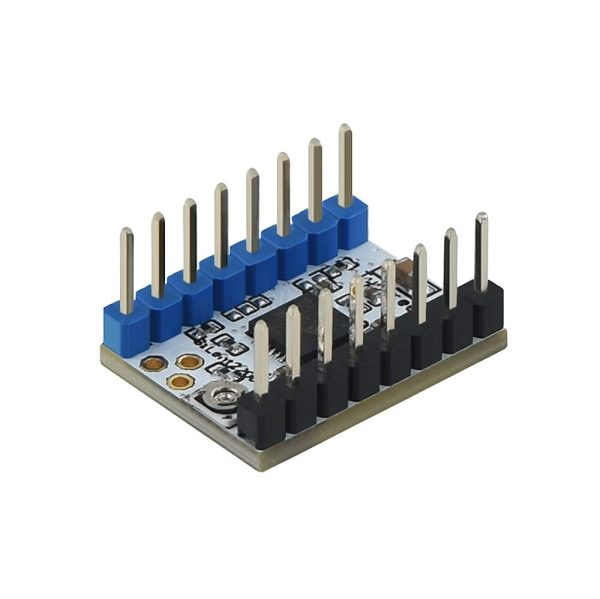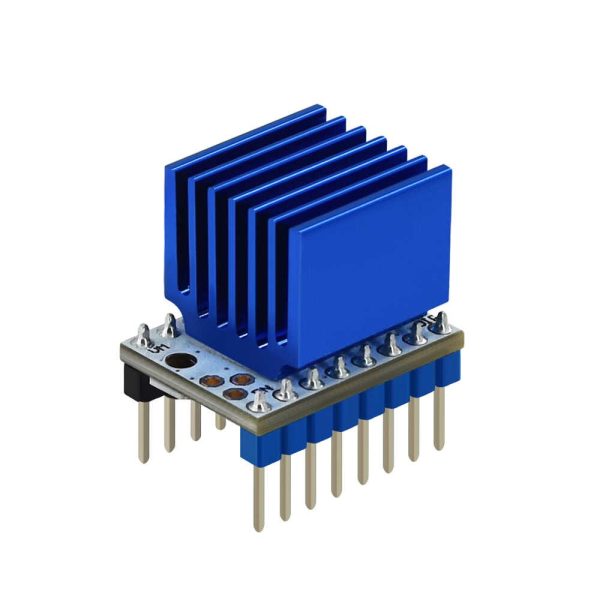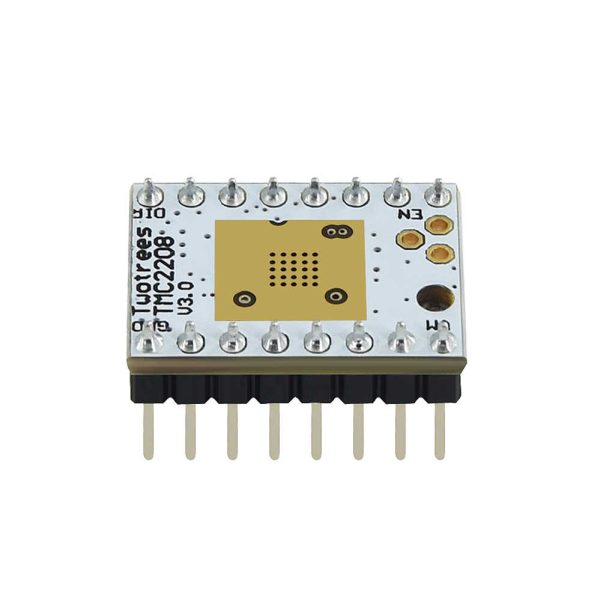 TMC2208 V3.0 Stepper Motor Driver Module Heat Sink Stepstick 3D Printer
$14.50 Inc. GST
Compare
Compare
Description
Additional information
Reviews (0)
Description
Enhance your stepper motor experience with the TMC2208 V3.0 driver – your key to precision and energy efficiency.
Unlock the potential of your motors with the TMC2208 V3.0 stepper motor drive chip. This single-axis powerhouse boasts integrated power tubes that enable a drive current of 1.2A and a peak current of 2A. With a versatile voltage range spanning from 4.75V to 35V, this driver supports a variety of applications.
Key Features:
Configuration Options: Choose between Dir/Step/UART settings, allowing flexibility in your setup.
Microstepping Advantages: Elevate your motor control with microsteps of up to 1/256, providing unparalleled smoothness and accuracy.
MicroPlyer Versatility: Opt for microPlyer settings like 1/2, 1/4, 1/8, 1/16, and 1/32 to fine-tune your motor's performance.
Intelligent Voltage Management: Operate within a logic voltage range of 3.3V to 5V, ensuring compatibility with various systems.
Advanced Technology: Experience advanced features like spreadCycle™ for high chopper frequency, dcStep™ for precise control, and stallGuard2™ for stall detection.
Energy Efficiency: Benefit from CoolStep™ technology, dynamically adjusting current to conserve up to 70% of energy.
Whisper-Quiet Operations: Utilize StealthChop™ mute technology for near-silent motor control, perfect for noise-sensitive environments.
Designed with flexibility in mind, the TMC2208 V3.0 supports microPlyer interpolation of up to 256 microsteps per step, ensuring impeccable control even in systems with limited pulse rates. This driver seamlessly integrates with existing 3D printer electronics, eliminating the need for costly overhauls. Pulse/direction inputs enable independent operation, and digital configuration makes setup a breeze.
Upgrade your setup effortlessly by replacing your original stepper drivers with the TMC2208 V3.0. Enjoy reduced heat generation, making it especially advantageous for the 3D printing market.
Package Contents:
1 x TMC2208 V3.0 Stepper Motor StepStick Driver Module (Retail packaging not included)
Elevate your motor control to new heights with the TMC2208 V3.0. Experience precision, energy efficiency, and quiet operation like never before. Order now and revolutionize your motor-driven applications!
Additional information
| | |
| --- | --- |
| Weight | 35 g |
| Dimensions | 260 × 160 × 20 mm |
---
Only logged in customers who have purchased this product may leave a review.