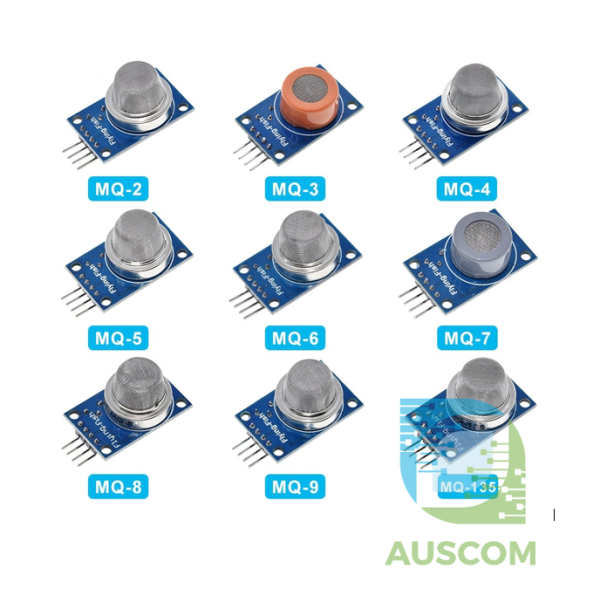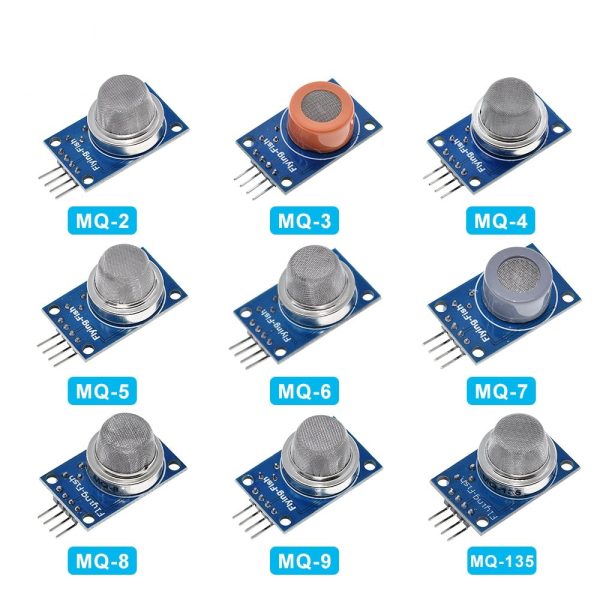 MQ-2 MQ-3 MQ-4 MQ-5 MQ-6 MQ-7 MQ-8 MQ-9 MQ-135 Gas Sensor Module Arduino
$9.95 Inc. GST
Compare
Compare
Description
Additional information
Reviews (0)
Description
Explore our range of high-performance gas sensor modules designed for Arduino enthusiasts and electronic hobbyists. Our selection includes the MQ-2, MQ-3, MQ-4, MQ-5, MQ-6, MQ-7, MQ-8, MQ-9, and MQ-135 Gas Sensor Modules, each equipped with advanced features for accurate gas detection and measurement.
Key Features:
Dual-panel design for enhanced reliability, featuring power indicator and TTL signal output instructions.
Provides both digital (TTL) and analog output signals for versatile integration.
TTL output signal is valid when in a low state, enabling direct connection to micro-controllers or relay modules.
Analog output voltage varies with higher gas concentrations, offering precise measurement capabilities.
Easy positioning facilitated by four screw holes on the module.
Demonstrates exceptional durability and reliable stability, ensuring prolonged usage.
Boasts rapid response and recovery characteristics, ideal for real-time monitoring applications.
Utilizes high-quality, low-conductivity tin oxide (SnO2) gas sensors for accurate detection in clean air conditions.
Operating voltage: DC 5V, Power consumption: 150mA.
Digital Output (DO): TTL 0 and 1 (0.1V and 5V).
Analog Output (AO): 0.1-0.3V (corresponding to pollution levels), with a maximum concentration voltage of approximately 4V.
Please Note: Upon power-up, allow the sensor to warm up for about 20 seconds to ensure precise readings. The sensor may emit some warmth due to its internal heating wire, which is normal. If the sensor becomes excessively hot, please check for potential issues.
Individually Tailored Gas Sensor Modules:
MQ-135 Product Overview: Designed for monitoring home and industrial gas leaks, this module is suitable for detecting gases like liquefied petroleum gas, butane, propane, methane, smoke, ammonia, sulfide, and benzene.
MQ-2 Product Overview: Ideal for home and factory gas leakage monitoring, this module detects gases such as natural gas, hydrogen, butane, propane, methane, and smoke.
MQ-3 Product Overview: Sensitive to alcohol, this module is resistant to interference from gasoline, smoke, and water vapor. It's suitable for breathalyzer applications and on-site ethanol vapor detection.
MQ-4 Product Overview: Offering high sensitivity to methane gas and other combustible gases like propane and butane, this module is perfect for home and factory leakage monitoring.
MQ-5 Product Overview: Featuring LM393 and ZYMQ-5 gas sensor, this module excels in detecting liquefied petroleum gas (LPG), natural gas, and coal gas, making it suitable for home and industrial applications.
MQ-6 Product Overview: With sensitivity to propane, butane, LPG, and natural gas, this module is versatile and suited for various combustible gas detection needs.
MQ-7 Product Overview: Designed for carbon monoxide detection, this module employs high-low temperature cycling and conductivity sensing. It's apt for home and factory gas leakage monitoring, capable of detecting carbon monoxide and other gases.
MQ-8 Product Overview: Specializing in hydrogen gas sensing, this module is highly sensitive and suitable for monitoring hydrogen-containing gases in home and industrial settings.
MQ-9 Product Overview: Equipped with high-low temperature cycling detection, this module is adept at sensing carbon monoxide, methane, and liquefied petroleum gas. It's a cost-effective choice for diverse gas detection applications.
Enhance your Arduino projects with accurate and reliable gas detection using our specialized MQ-series Gas Sensor Modules. Whether you're monitoring gas leaks, creating breathalyzer devices, or developing industrial applications, our modules offer the precision and versatility you need.
Additional information
| | |
| --- | --- |
| Weight | 40 g |
| Dimensions | 260 × 160 × 20 mm |
| Module Type | MQ-2, MQ-3, MQ-4, MQ-5, MQ-6, MQ-7, MQ-8, MQ-9, MQ-135 |
---
Only logged in customers who have purchased this product may leave a review.