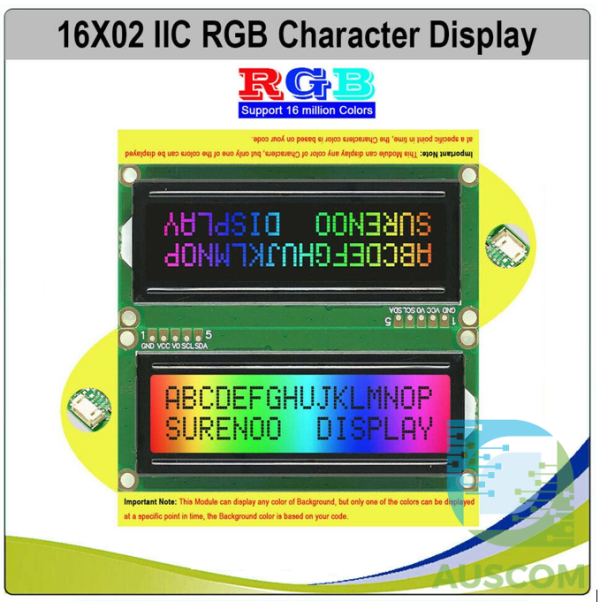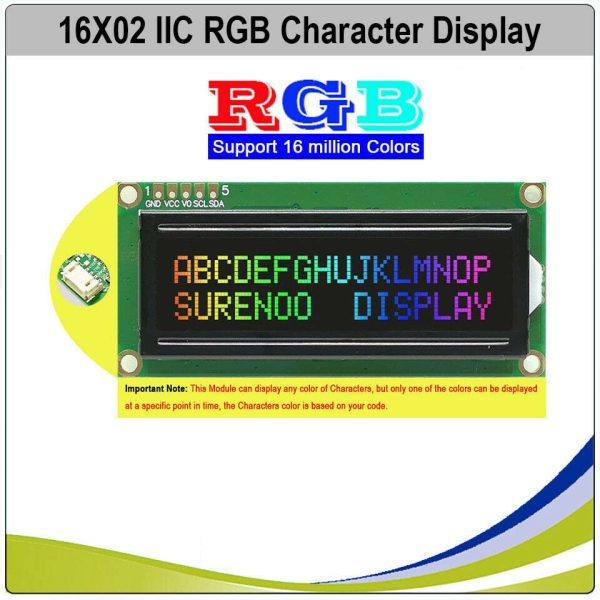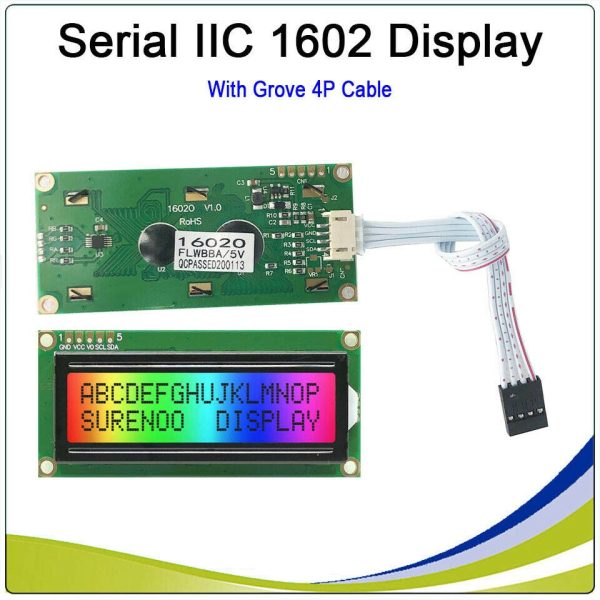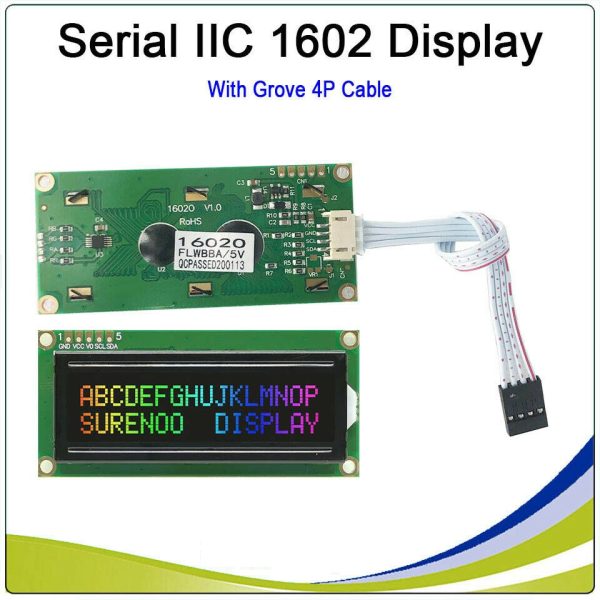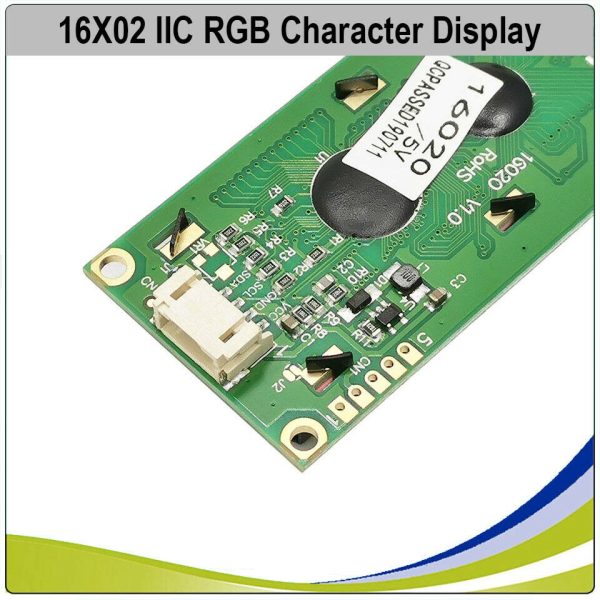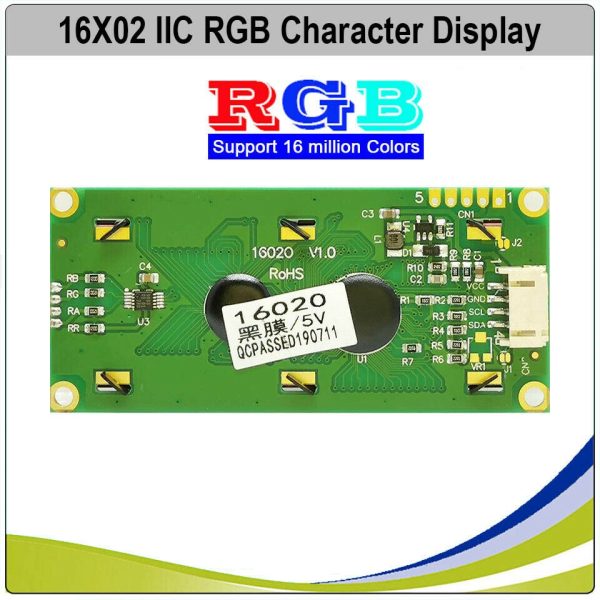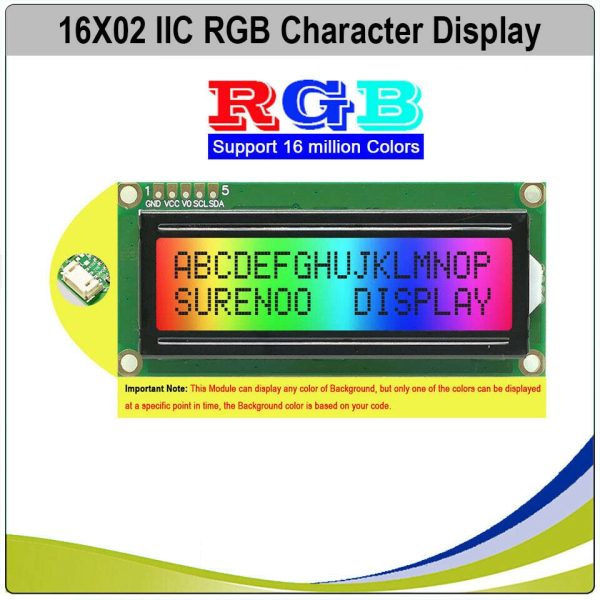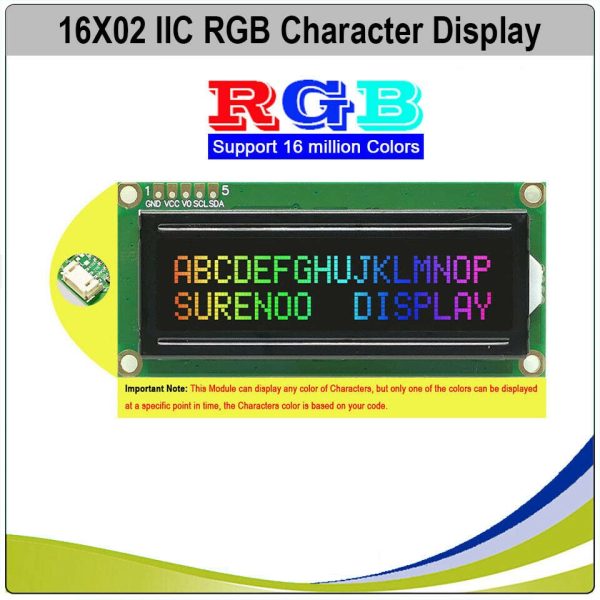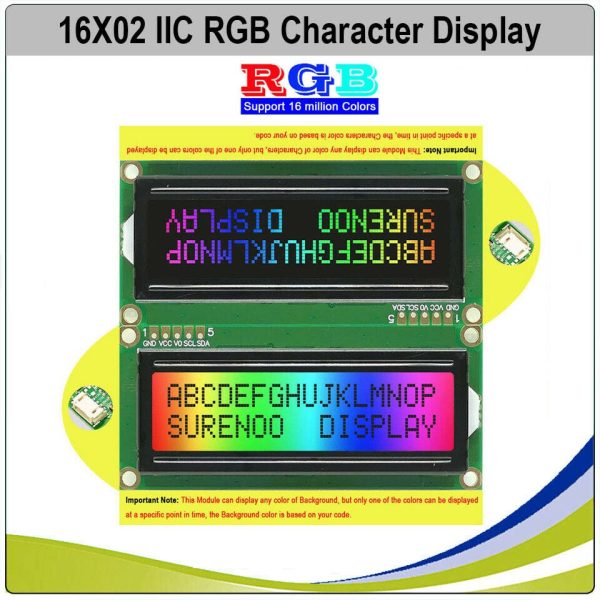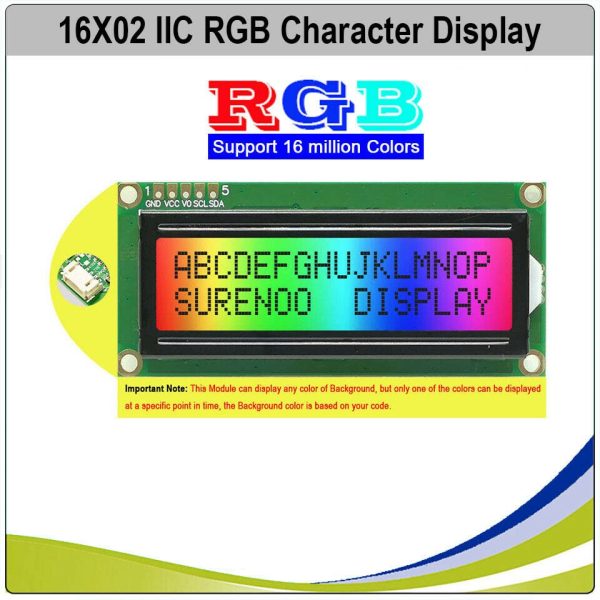 1602 16×2 LCD Display Module I2C IIC With RGB Character Backlight For Arduino
$38.95 Inc. GST
Compare
Compare
Description
Additional information
Reviews (0)
Description
Discover the SURENOO 1602 Character LCD Module – Elevate Your Arduino Projects
Introducing the SLC1602O Model – Your Window to Limitless Creativity
Unleash the potential of your projects with the SURENOO 1602 Character LCD Module, Model No. SLC1602O. With its advanced features and versatile capabilities, this module is a true game-changer for Arduino enthusiasts and creative minds alike.
Key Features:
Vibrant RGB Character Backlight: The SLC1602O boasts a cutting-edge RGB character backlight that can illuminate your display with an astounding 16 million colors. Whether you prefer characters to pop against a black background or seek the allure of black characters on an RGB background, this module adapts to your vision.
Crystal Clear 16*02 Character Display: Experience precision at its finest with a 16*02 character display format that brings your messages and data to life. Its font options, including English and Japanese, cater to diverse communication needs.
Effortless Connectivity with Serial I2C: Seamlessly integrate the SLC1602O into your projects using the Serial I2C interface. Say goodbye to complicated setups, and embrace a hassle-free connection process.
Quality IC Design: Powered by the AIP31068 IC or its equivalent, this module guarantees top-notch performance and reliability. Your creations deserve nothing less than the best.
Aesthetic Appeal and Dimensional Excellence:
The SLC1602O combines form and function seamlessly:
RGB Colors on Black Background: Witness the marriage of technology and aesthetics as the 16 million colors shine against a black background.
Black Colors on RGB Background: For a unique visual experience, opt for black characters that stand out against an RGB background.
Compact and Sleek: With an outline dimension of 80.00(W)x36.00(H)x13.00(T)mm, the module effortlessly fits into your projects without sacrificing valuable space.
Optimal Visual Area: Enjoy an expansive visual area of 64.50×16.00mm, allowing your messages to capture attention with clarity and precision.
Tech Specs:
Display Type: Choose between FSTN Negative and FSTN Positive for the perfect display type that matches your project's requirements.
Viewing Direction: A convenient 6:00 viewing direction ensures comfortable readability from various angles.
Power Supply: Operating on a versatile power supply range of 3.3-5.0V, the SLC1602O seamlessly integrates into your existing setups.
Seamless Integration:
Experience the future of creativity and innovation by incorporating the SURENOO 1602 Character LCD Module, Model No. SLC1602O, into your projects today. For detailed instructions and additional insights, refer to our reference link: Gravity I2C 16×2 Arduino LCD with RGB Font Display.
Elevate your displays, captivate your audience, and let your imagination run wild with the SURENOO 1602 Character LCD Module. Embrace a new era of limitless possibilities.
Additional information
| | |
| --- | --- |
| Weight | 50 g |
| Dimensions | 260 × 160 × 2 mm |
| Backlight | Black, RGB |
---
Only logged in customers who have purchased this product may leave a review.