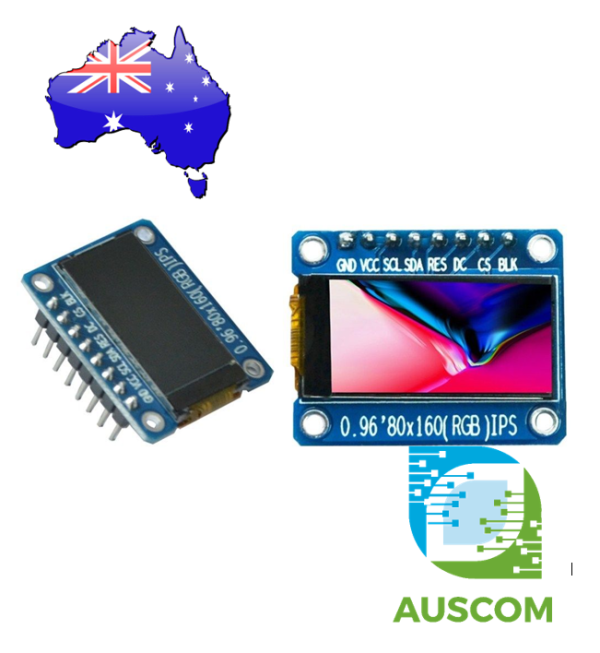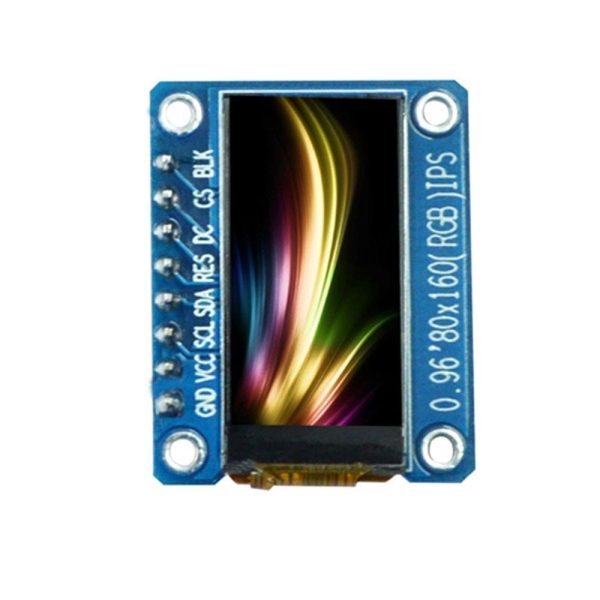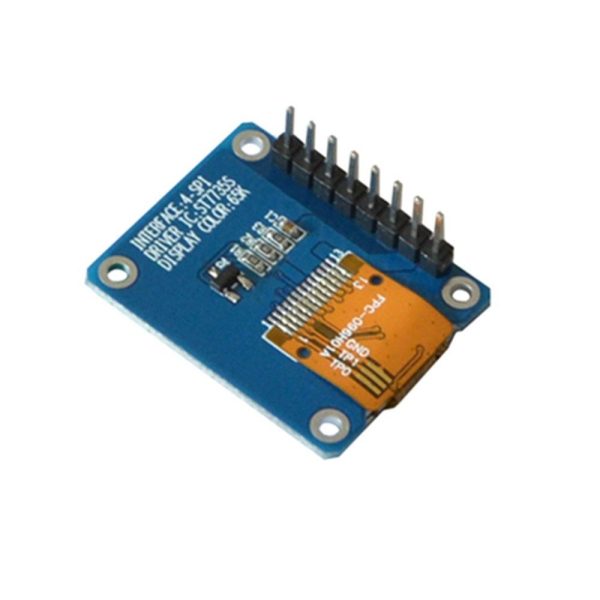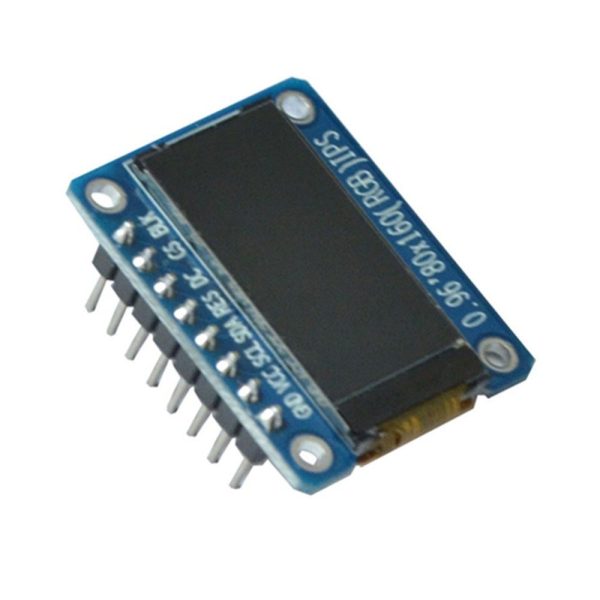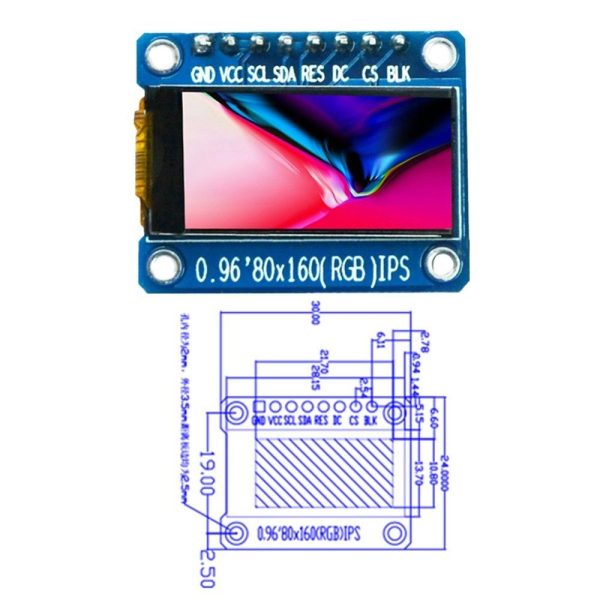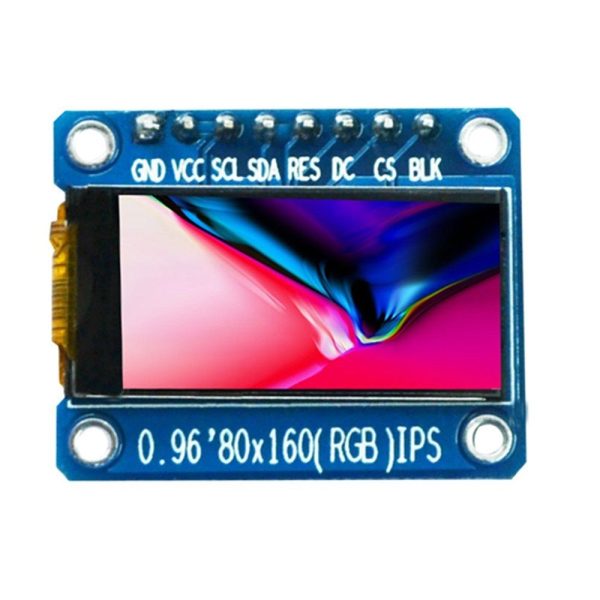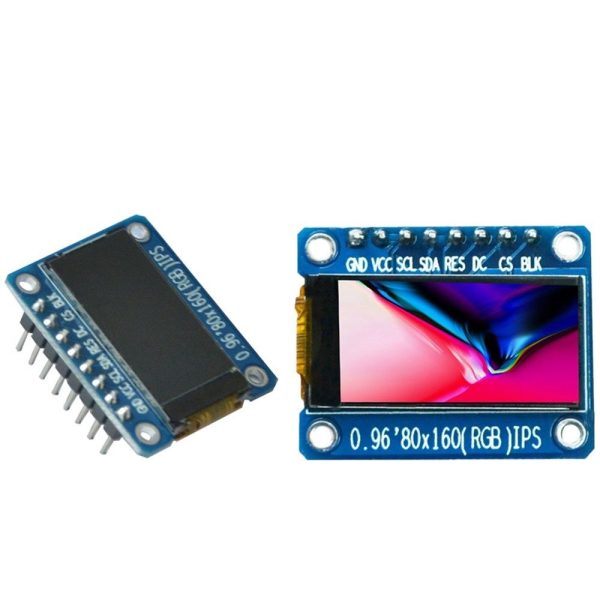 0.96" 80×160 Full Color IPS LCD Screen ST7735 SPI Display Module RGB Arduino
$13.95 Inc. GST
Compare
Compare
Description
Additional information
Reviews (0)
Description
Introducing our 0.96" 80×160 Full Color IPS LCD Screen with ST7735 SPI Display Module – Ideal for Arduino Projects!
Features:
Display Excellence: Immerse yourself in vibrant visuals on the 0.96-inch screen, featuring a Graphic 80RGB*160 Dot-matrix format that brings your projects to life.
Advanced Technology: Experience uncompromised clarity with the normally black IPS display mode, ensuring exceptional viewing from every angle.
Effortless Integration: Seamlessly connect to your microcontroller via the SPI interface, making interaction and data transfer smoother than ever.
Precision Engineering: Powered by the ST7735S Drive IC, this module guarantees seamless performance and reliability.
Sleek Design: With dimensions measuring 24(W) x 30(H) x 2.8+/-0.1(T)mm, this display module fits perfectly into your projects without adding bulk.
Crisp Resolution: Enjoy a sharp resolution of 80RGB*160 Dots, rendering your visuals with stunning detail.
Optimized View: The LCD Active area of 10.8(W) x 21.7(H) ensures a captivating display, while the 0.135(H) x 0.1356(V) mm dot pitch adds to the visual precision.
Versatile Viewing: Designed for an all-view experience, this display adapts effortlessly to your preferred viewing direction.
Temperature Resilience: With an operating temperature range of -20°C to 70°C, this module remains reliable even in challenging conditions.
Lightweight Build: Weighing just 4g, this display module adds minimal weight to your projects.
Pin Descriptions:
GND (Ground): Establish a solid foundation for your project.
VCC (Power 3.3V): Ensure steady power supply for uninterrupted performance.
SCL (Serial Clock Pin): Facilitate seamless communication between components.
SDA (Serial Data Input): Effortlessly input data for an enhanced user experience.
RES (LCM Reset Pin): Initialize the chip with ease using this reset signal input.
DC (Data/Command Control): Take control of data flow with this versatile pin.
CS (Chip Select): Manage chip activation effortlessly.
BLK (Backlight Control Pin): Adjust backlight settings to suit your environment.
Easy Connectivity:
Connect this exceptional module to your microcontroller and watch your projects come to life. Unleash your creativity with the 0.96" Inch IPS Full Color 80×160 LCD.
Elevate your projects with the power of vivid visuals and reliable performance. Order now and experience the future of displays!
Package Included:
1 x 0.96" Inch IPS Full Color 80×160 LCD: Your gateway to vibrant and dynamic displays.
Experience excellence in visual technology today!
Additional information
| | |
| --- | --- |
| Weight | 30 g |
| Dimensions | 260 × 160 × 20 mm |
---
Only logged in customers who have purchased this product may leave a review.