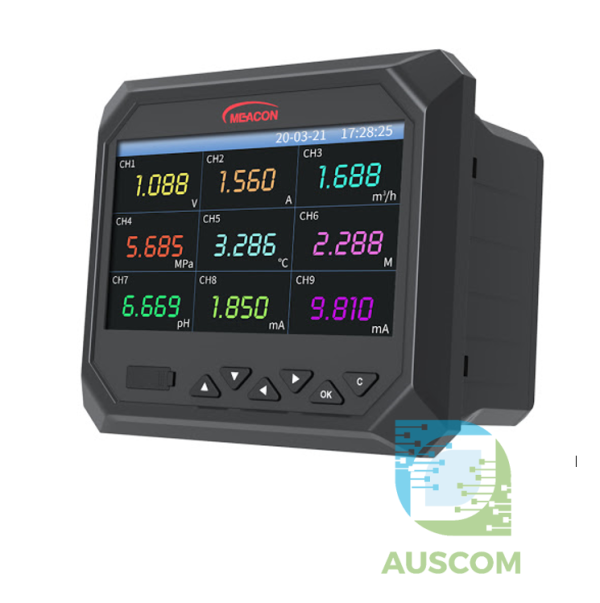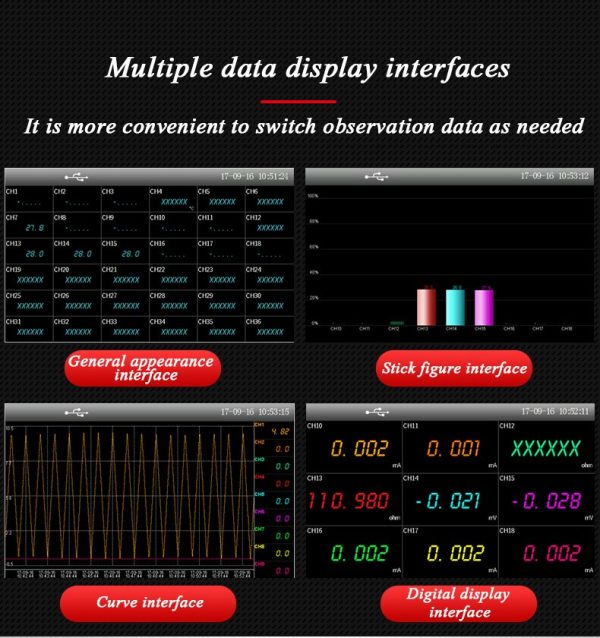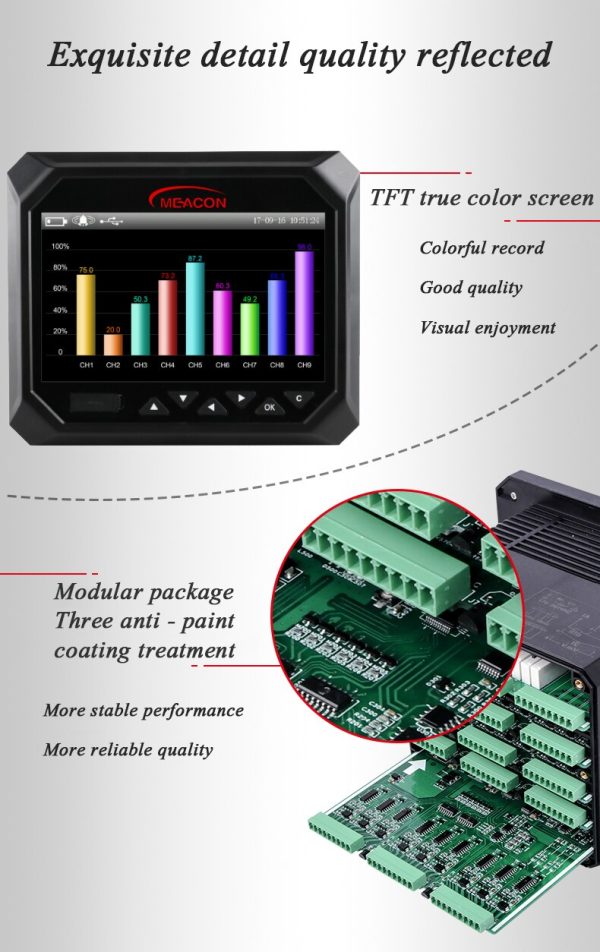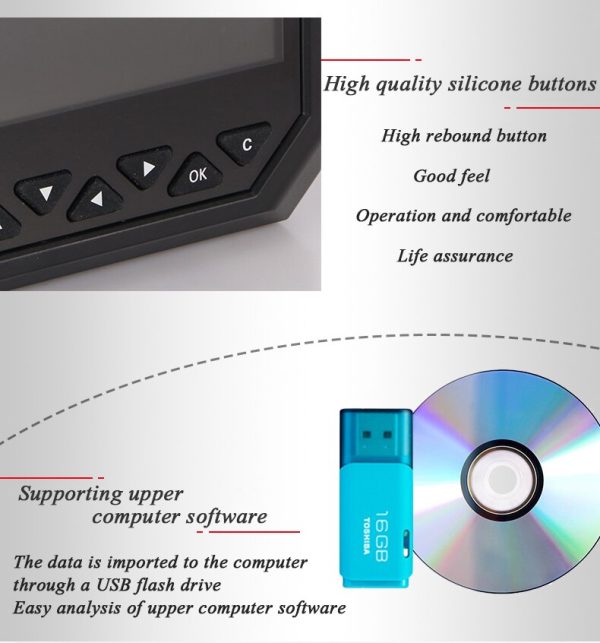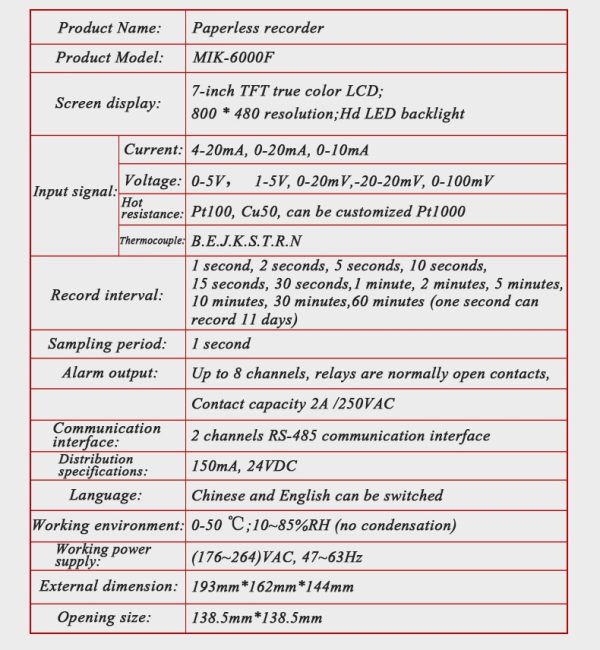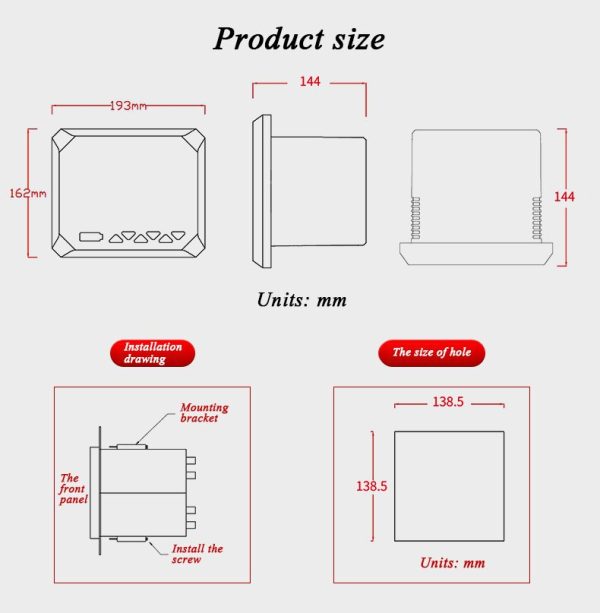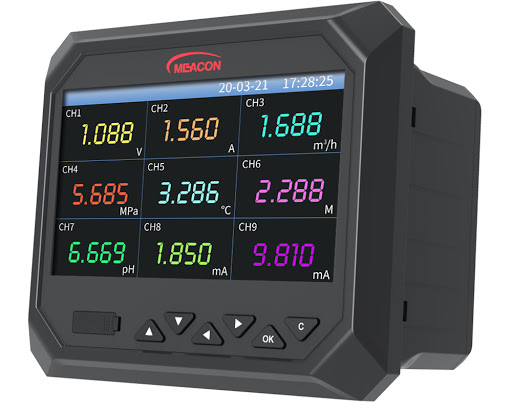 Meacon Multi Channel Datalogger Paperless Recorder Analog MIK-6000F USB
$2,056.00 – $7,557.00 Inc. GST
Compare
Compare
Description
Additional information
Reviews (0)
Description
Introducing the Meacon MIK-6000F Multi-Channel Datalogger Paperless Recorder
Unveiling the Meacon MIK-6000F Multi-Channel Datalogger Paperless Recorder, a cutting-edge solution for streamlined data collection and analysis. This advanced paperless recorder is equipped with a plethora of features to meet your data recording needs with utmost precision.
Product Highlights:
🌟 Vivid Visuals: The 7-inch TET colour LCD screen boasts an impressive 800×480 resolution, enhanced by HD LED backlighting. This ensures clear, vibrant visuals that bring your data to life.
📊 Versatile Signal Inputs: Seamlessly handle various input signals with ease. Current options include 4-20mA, 0-20mA, and 0-10mA, while voltage inputs span 0-5V, 1-5V, 0-20mV, -20-20mV, and 0-100mV.
🌡️ Temperature Proficiency: The MIK-6000F supports an array of thermal resistance inputs, including Pt100, Cu50, and customizable Pt1000. Additionally, it accommodates multiple thermocouple types: B, E, J, K, S, T, R, and N.
⏲️ Flexible Recording Intervals: Tailor your data collection to your specific requirements. Choose from intervals such as 1 second, 2 seconds, 5 seconds, and more, including the ability to record at 1-second intervals for up to an impressive 11 days.
📅 Sampling Precision: With a sampling period of 1 second, the recorder captures data at a high frequency, ensuring accuracy in your records.
🚨 Effective Alarm System: Enjoy peace of mind with up to 8 channels of alarm output. The included relays feature normally open contacts with a capacity of 2A/250VAC, offering a reliable alert mechanism.
🔌 Effortless Communication: The 2-way RS-485 communication interface enables seamless data transfer and integration with your existing systems.
🔋 Robust Power Management: Operating smoothly within a temperature range of 0 to 50°C and a humidity range of 10-85%RH (no condensation), the recorder is designed to perform consistently in various environments.
🔌 Power Supply Versatility: With a power supply range of (176-264)VAC and a frequency range of 47-63Hz, the MIK-6000F adapts to different power inputs for your convenience.
📏 Sleek Dimensions: The recorder's external dimensions of 193mm x 162mm x 144mm make it a compact and efficient addition to your setup.
📏 Precise Installation: The opening size of 138.5mm x 138.5mm ensures a seamless integration into your workspace.
Switch seamlessly between Chinese and English interfaces for a user experience tailored to your preferences.
Discover unparalleled data recording and analysis with the Meacon MIK-6000F Multi-Channel Datalogger Paperless Recorder. Elevate your data management capabilities today.
Additional information
| | |
| --- | --- |
| Channels | 1, 4, 8, 12, 16, 20, 24, 28, 32, 36, 40 |
---
Only logged in customers who have purchased this product may leave a review.